Did you know that according to WordsRated, around 4 million books are published annually, meaning that about 11 thousand books are published daily. It may take a lot of work to find a good-quality book with this flow of information, especially when it comes to professional literature. 
That is why this article collected some of the best books in fintech, management, startups, and innovations, recommended by well-known people from the world of fintech. 
"The Innovator's Dilemma" by Clayton Christensen
In this revolutionary bestseller, innovation expert Clayton M. Christensen says outstanding companies can do everything right and still lose their market leadership—or worse, disappear altogether. And not only does he prove what he says, but he tells others how to avoid a similar fate.
Focusing on "disruptive technology," Christensen shows why most companies miss out on new waves of innovation. Whether in electronics or retailing, a successful company with established products will get pushed aside unless managers know when to abandon traditional business practices. Using the lessons of successes and failures from leading companies, The Innovator's Dilemma presents a set of rules for capitalizing on the phenomenon of disruptive innovation.
This book was published in the late 90s and has been recommended many times since then. In particular, by Jeff Bezoz, Marc Cuban, Bill Gurley, and many others.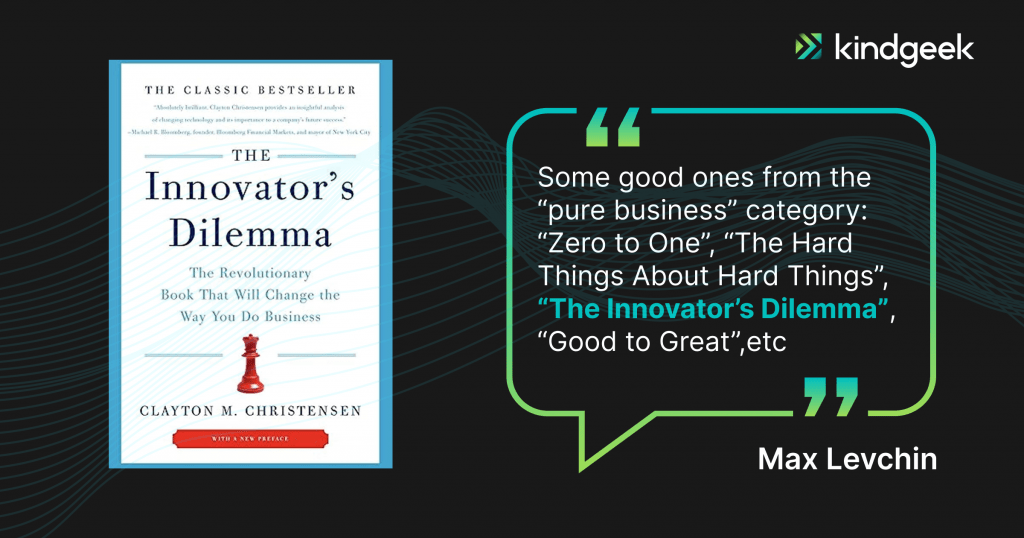 Max Levchin, Co-founder of PayPal, also recommended this book along with other "good ones from the "pure business" category" when he was asked to give his favorite business book recommendations for young entrepreneurs.
"The Hard Thing About Hard Things" by Ben Horowitz
There are many people talking about how great it is to start a business, but only Ben Horowitz is brutally honest about how hard it is to run one. Filled with Ben Horowitz's trademark humor and straight talk, The Hard Thing About Hard Things is invaluable for veteran entrepreneurs as well as those aspiring to their own new ventures, drawing from Horowitz's personal and often humbling experiences.
This book resonated with and was recommended by famous people like Mark Zuckerberg, Larry Page, and Dick Costolo.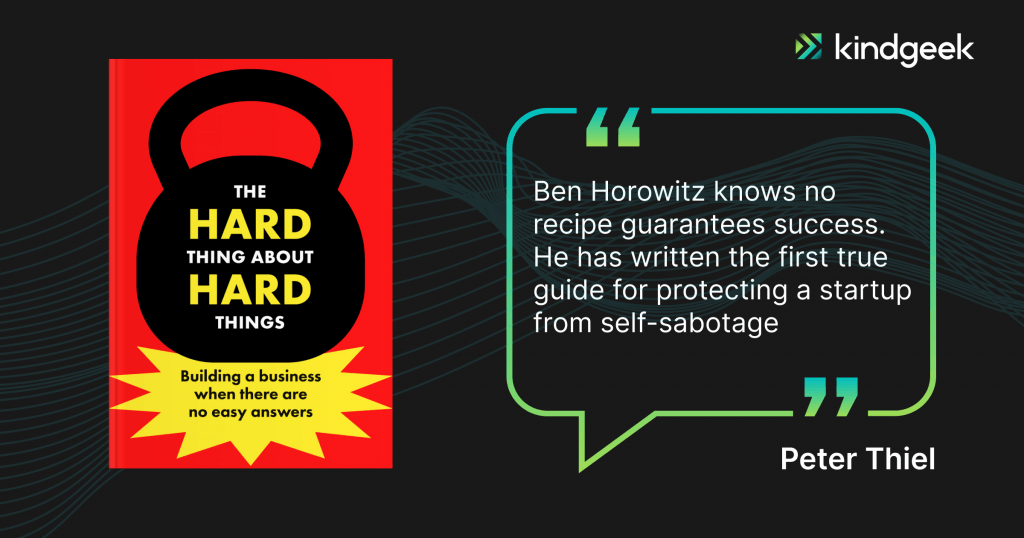 Peter Thiel, Co-founder of PayPal and partner at Founders Fund, also found this book very impactful: 
"Every management guide presumes that all great companies follow a formula. But successful startups don't imitate; they build innovations that can't be copied. Ben Horowitz knows no recipe guarantees success. He has written the first true guide for protecting a startup from self-sabotage."
"Bitcoin Billionaires" by Ben Mezrich
Ben Mezrich's 2009 bestseller "The Accidental Billionaires" is the definitive account of Facebook's founding and the basis for the Academy Award–winning film The Social Network. Two of the story's iconic characters are Harvard students Tyler and Cameron Winklevoss: identical twins, Olympic rowers, and foils to Mark Zuckerberg. "Bitcoin Billionaires" is the story of the brothers' redemption and revenge in the wake of their epic legal battle with Facebook.
Planning to start careers as venture capitalists, the brothers quickly discover that no one will take their money after their fight with Zuckerberg. While nursing their wounds in Ibiza, they accidentally run into an eccentric character who tells them about a brand-new idea: cryptocurrency. Immersing themselves in what is then an obscure and sometimes sinister world, they begin to realize "crypto" is, in their own words, "either the next big thing or total bulls–t." There's nothing left to do but make a bet.
No wonder this book gained such success and was recommended by Anthony Pompliano, Anthony Scaramucci and Cameron Winklevoss.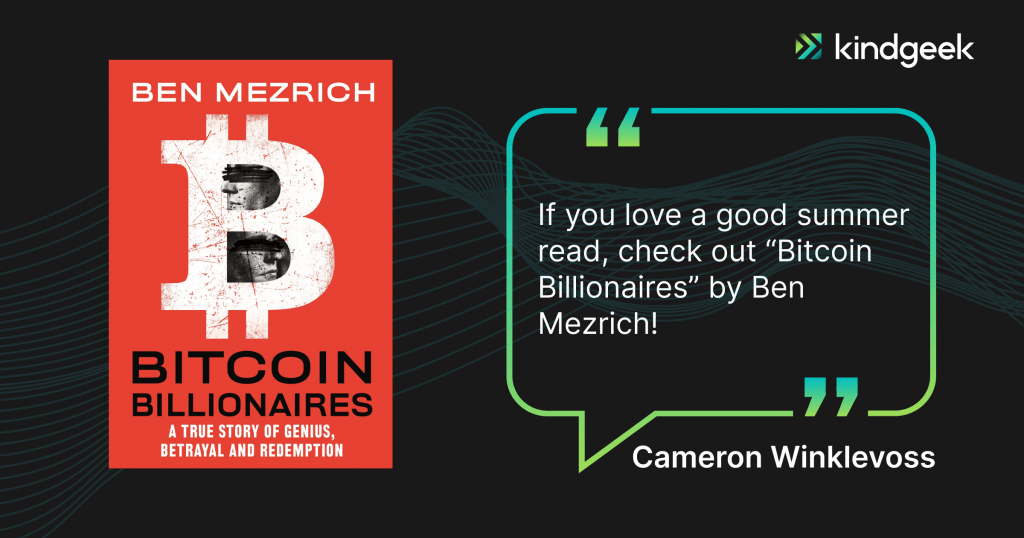 Cameron Winklevoss, Co-founder of Gemini, and one of the main characters of the story, mentioned this book on his twitter:
"If you love a good summer read, check out "Bitcoin Billionaires" by Ben Mezrich! It chronicles the Wild West days of Bitcoin, and explains the technology and movement that's changing the world."
"Secrets of Sand Hill Road" by Scott Kupor
If Silicon Valley is the greatest wealth-generating machine in the world, Sand Hill Road is its humming engine. That's where you'll find the biggest names in venture capital, including famed VC firm Andreessen Horowitz, where lawyer-turned-entrepreneur-turned-VC Scott Kupor serves as managing partner.
Whether trying to get a new company off the ground or scale an existing business to the next level, you need to understand how VCs think. In Secrets of Sand Hill Road, Kupor explains exactly how VCs decide where and how much to invest and how entrepreneurs can get the best possible deal and make the most of their relationships with VCs.
Filled with Kupor's first-hand experiences, insider advice, and practical takeaways, Secrets of Sand Hill Road is the guide every entrepreneur needs to turn their startup into the next unicorn.
Among the connoisseurs of this book, you will find Eric Schmidt, John W. Thompson, Sam Altman, and many others.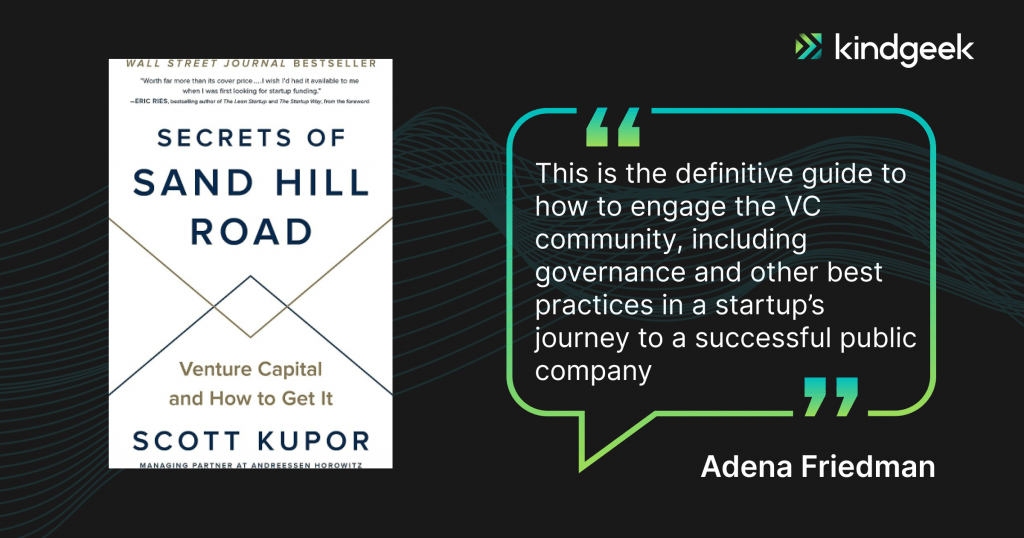 Adena Friedman, President and CEO of Nasdaq; former managing director and CFO, Carlyle Group, also didn't miss this bestseller:
"As more and more startups consider an IPO, it is exciting for us to play a part in giving millions of new investors the opportunity to share in the value and future growth of these seminal companies. But it all begins with the early investors who 'venture' into uncharted territory to help make these companies possible by backing the entrepreneurs behind them. Secrets of Sand Hill Road is the definitive guide to how to engage the VC community, including governance and other best practices in a startup's journey to a successful public company."
"The Truth Machine: The Blockchain and the Future of Everything" by Paul Vigna and Michael J. Casey
Big banks have grown bigger and more entrenched. Privacy exists only until the next hack. Credit card fraud is a fact of life. Many of the "legacy systems" once designed to make our lives easier and our economy more efficient are no longer up to the task. Yet there is a way past all this―a new kind of operating system with the potential to revolutionize vast swaths of our economy: the blockchain.
In The Truth Machine, Michael J. Casey and Paul Vigna demystify the blockchain and explain why it can restore personal control over our data, assets, and identities, grant billions of excluded people access to the global economy, and shift the balance of power to revive society's faith in itself. They reveal the disruption it promises for finance, tech, legal, and shipping industries.
Since being published, this book has been recommended by such figures as Mariana Dahan, Josh Brownand and Don Tapscott.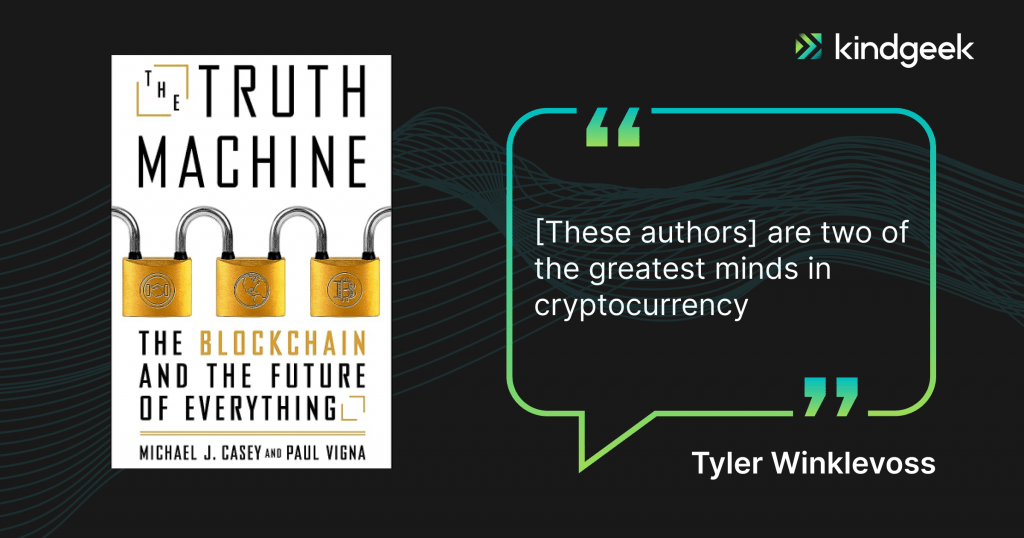 Tyler Winklevoss, Сo-founder of Gemini, also acknowledges authors of this book as "two of the greatest minds in cryptocurrency", while recommending their latest release.
"Principles" by Ray Dalio
In 1975, Ray Dalio founded an investment firm, Bridgewater Associates, out of his two-bedroom apartment in New York City. Forty years later, according to Fortune magazine, Bridgewater has made more money for its clients than any other hedge fund in history and has grown into the fifth most important private company in the United States. Along the way, Dalio discovered a set of unique principles that have led to Bridgewater's exceptionally effective culture, which he describes as "an ideal meritocracy that strives to achieve meaningful work and meaningful relationships through radical transparency."
In Principles, Dalio shares what he's learned over the course of his remarkable career. He argues that life, management, economics, and investing can all be systemized into rules and understood like machines. The book's hundreds of practical lessons, which are built around his cornerstones of "radical truth" and "radical transparency," include Dalio laying out the most effective ways for individuals and organizations to make decisions, approach challenges, and build strong teams.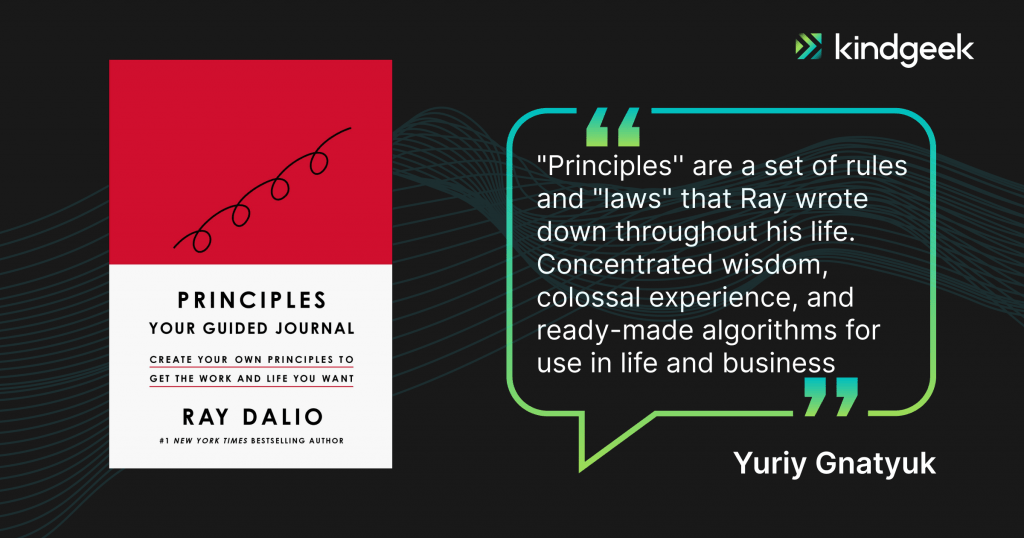 At Kindgeek, we especially value a good reading experience, and this book was included in the list of the best books read in 2020 by Yuriy Gnatyuk, CTO of Kindgeek:
"The author is the Steve Jobs in the world of investments. His company "Bridgewater" is one of the most expensive US companies. What are the reasons for such success? I believe the answer is hiding in innovations and approaches they use. Just watch Ray Dalio's TED talk, and you'll understand that they are 10 years ahead of most of the super tech companies in their approaches to business management. "Principles" are a set of rules and "laws" that Ray wrote down throughout his life. Concentrated wisdom, colossal experience, and ready-made algorithms for use in life and business."
Conclusion
The best way to keep up with the constantly developing world of fintech and innovations is to also keep developing as an individual by using different tools, and books are invariably one of them. They are an amazing source of inspiration, experience, and knowledge sharing.
Books that are recommended in this article are excellent starting points for anyone interested in learning about fintech, blockchain, or startups.
If you are looking to build your own fintech solution, contact us. Kindgeek provides core fintech banking and payment solutions to serve as a software shortcut for businesses looking to launch their fintech products, from digital wallets to neobanks, accommodating startups and enterprise-level customers.