Lviv, Ukraine, 15th of March 2022 – we are proud to announce that KindGeek successfully verified as a Pangea vendor. 
While we continue developing high-quality innovative technological products, we also transformed our office into a volunteering hub and joined the Ukrainian IT army. We work for Ukraine's economy as our army resists the unprovoked Russian war against Ukraine.
Meanwhile, we have joined the community of the world's top 7% of software engineering vendors. This will enable us to provide unparalleled transparency about our organization through our Pangea profile for both current and future allies.
Starting a journey with Pangea
KindGeek was launched during the Ukrainian Revolution of Dignity and the beginning of the Russian aggression against Ukraine. We knew it would be a long road, but our values were clear early on: at KindGeek, we make social responsibility, trust, transparency, and a sense of beauty the basis for everything we do.
Having gone through the independent verification process at Pangea, we once again ensured the transparency of our processes – both for ourselves and for our partners and clients.
During our verification period, we dived deep on topics such as business strategy, culture, technology, recruitment & HR, project metrics, and more. Additionally, we documented core internal processes that will be accessible to any prospective partner of KindGeek through the data room at Pangea.
Valuing a team at the heart of KindGeek, we also measured team health and gathered insights from our employees. To evaluate the client experience, 3 of our clients also contributed with their feedback about cooperation with KindGeek.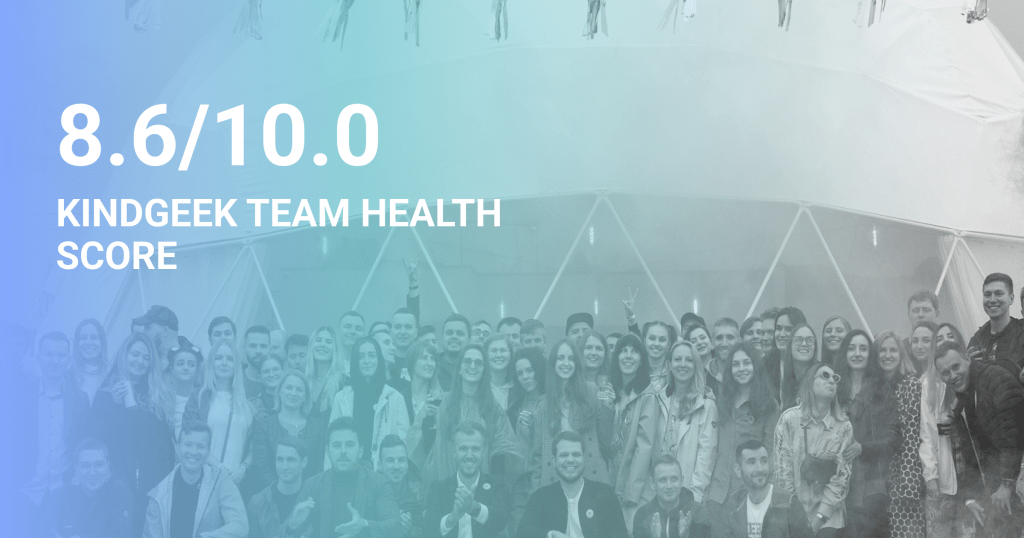 People were always the core of KindGeek. Everything we have been able to do so far and everything that awaits – is thanks to our team. Our team health score is 8.6/10.0 whereas our highest scores are 8.8/10.0 for culture, management, and peer rapport.
We are thrilled to see that our team is satisfied at KindGeek and that the team culture is recognized to be one of the strongest aspects of our company. While we have some areas for improvement, we thrived in most of the aspects of being an employer. This year, 80 new geeks have joined the company. KindGeek would not be able to reach heights without the dedicated work, creativity, and involvement of its employees.
During the verification process, we have also gathered insights from our clients. What's most invigorating is the feedback we receive about how our software development services have supported startups, established businesses, and enterprises on their technology development journeys.
Since the beginning of KindGeek, we treat other clients as partners in the software development process. From the client insights derived by Pangea, our client score is 8.5/10.
We are also thrilled that our clients scored 9.3/10 for our UI/UX and Tech departments. Sence of beauty is one of our core principles – and it is also one out of 5 KindGeek company values. Every time we design a product, we strive to make it human-centered and driven by innovations and business value.
Growing into a trusted technology partner
Seeing Ukrainian IT community evolve and grow and being a part of it makes us feel on the right track. Being part of the Pangea elite 7% of vendors is a great milestone enabling full transparency for any prospect about the status quo, but only the beginning of our journey.
Our Pangea journey has just started. All of this – everything KindGeek has been able to do so far, and everywhere we're going – is thanks to our exceptional team. Over the years, we have grown into a team of 140 geeks and we're continuing to expand across all areas of the company.
We are excited about the new peaks we will be able to reach with Pangea – by joining the community, we dedicated ourselves to constant improvement and development. Our future prospects and allies can now be sure that if they have hot a mountain to climb with their product, this journey will be easy and safe with the KindGeek team.