On February 17th, 2015, Yuriy Gnatyk and Anton Skrypnyk laid the fist stone for launching KindGeek. Since then, we grew into a team of 180 geeks and continue to expand across all areas of the company. On this anniversary, it's a pleasure to have the opportunity to celebrate all we've accomplished – while reaffirming that we are building something special for the long haul.
While it is just the beginning of our journey, we would like to remember some milestones of our history – from the idea to a trusted product development partner. To bring up the memories, we talked with Yuriy, Anton, and Michael, COO, CEO, and CTO of KindGeek.
Turning an idea into reality
Why did you decide to launch a technological company?
Yuriy, COO
Honestly, we had thought about launching a company together since 2010. We had a few businesses in different industries and a product startup called STATR — something like Google Analytics for mobile games. There was a logical question — what do we do next? Since we have worked in outsourcing companies before, we were acquainted with the business model. Also, the experience we gained while we were developing our startup has been invaluable. The symbiosis of experience and aspirations later transformed into KindGeek.
Anton, CEO
We had a strong background in business management and understanding how IT companies, tech startups, venture funds, and investments work. While we did not know the theory, we learned everything in practice. From the very beginning, we knew that KindGeek would not be our final destination – we wanted to build a group of companies. We knew it would be a long road, but our mission was clear early on: we wanted to create a platform for positive changes that would allow us, our employees, partners, and clients to constantly grow and develop.
Describe yourself in three words – what were you like back then?
Yuriy, COO
Motivated and disciplined. I had lots of ambitions – at that point, I even thought I did not have a right to make a mistake.
Hard-working. I spent most of my time at work first three years since we launched KindGeek – I did not take day-offs or vacations. During this time, I learned many valuable lessons – and I truly needed them.
Unexperienced. This was mostly a good thing. When you have a lot of experience managing a company, you analyze and think a lot of what you would not do, try, write. On the other hand, when you just start, you are eager for every opportunity. This is what makes you move forward.
Anton, CEO
Three words? Inspired, fearless and ready to, well, work my ass off.
What is the 17th of February for you?
Anton, CEO
Turning a dream into action. This was an important step – we could already imagine the company in our heads. It was about commitment. Also, about trust. We did a lot of work which later defined our growth and development.
Yuriy, COO
For me, this was a day in Kyiv. It was exactly the time when the war and the Crimea occupation started. That day, every TV channel announced the ceasefire – I remember watching the news and hearing the gunshots on the streets. It was a false alarm – someone thrеw firecrackers, but I still cannot forget the emotions I had at that moment.
The next morning, Anton came. We went to Chasopys, a popular Kyiv coworking at that time, and spent the whole day dreaming and brainstorming. We discussed our strong and weak sides and identified how each of us could contribute to the company. KindGeek got its name that day, too.
It was a day of beginning a new chapter. It laid the foundation of KindGeek that we see today.
And we also had lunch in McDonald's.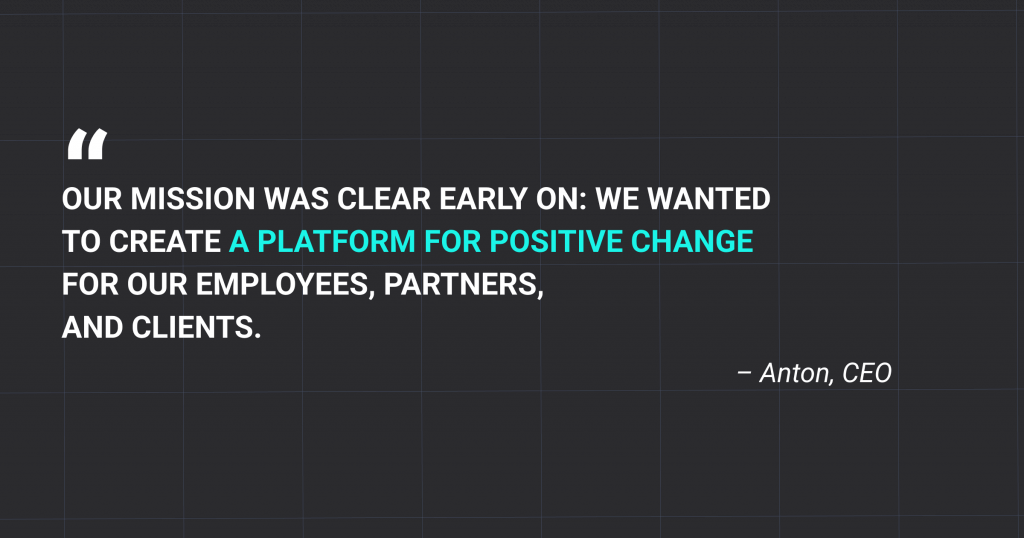 Valuing the team at the heart of KindGeek
What did you look for while interviewing people to join your team?
Yuriy, COO
Since the launch, we knew that we wanted to create clear and transparent rules according to which the whole organization works in terms of employment. We looked for intelligent people who also love and care about Ukraine. Match in values and principles is also very important. We try to make such values as social responsibility, trust, transparency, and a sense of beauty the basis for everything we do.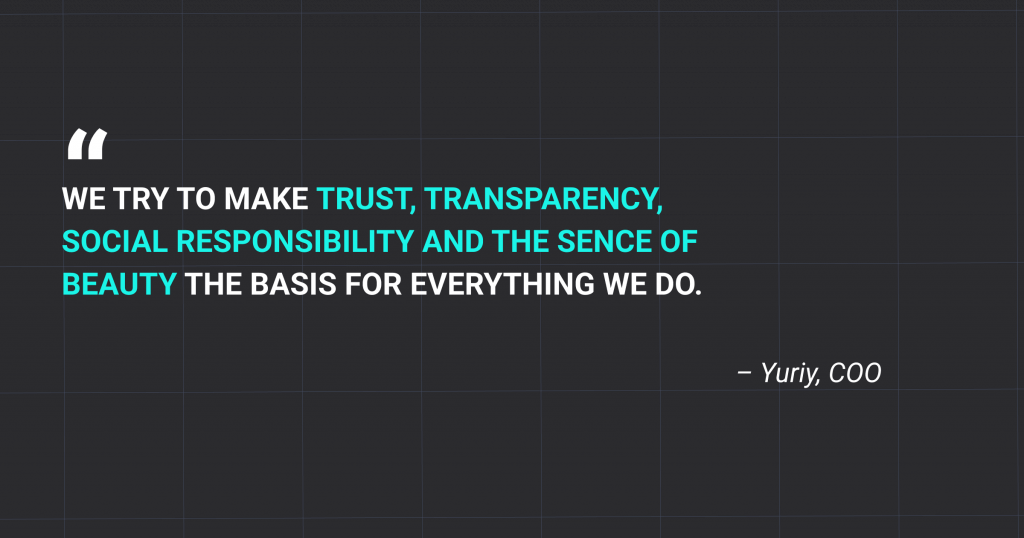 Anton, CEO
We had four or five interviews per day during the first few months. To be honest, every time we interviewed a person we later hired, I could feel a light-bulb moment. We did not have any formal criteria. We choose people by who they are, what they value and believe in. Since the first day, we worked with real "geeks."
What are you proud of the most?
Anton, CEO
I am proud of the team we have gathered. We work with ambitious, passionate, mature professionals who do not need supervision and micro-management to inspire and motivate others. It is cool to work with people who are not afraid of changes and are much better and smarter than we are in specific fields – we can grow and do amazing things together.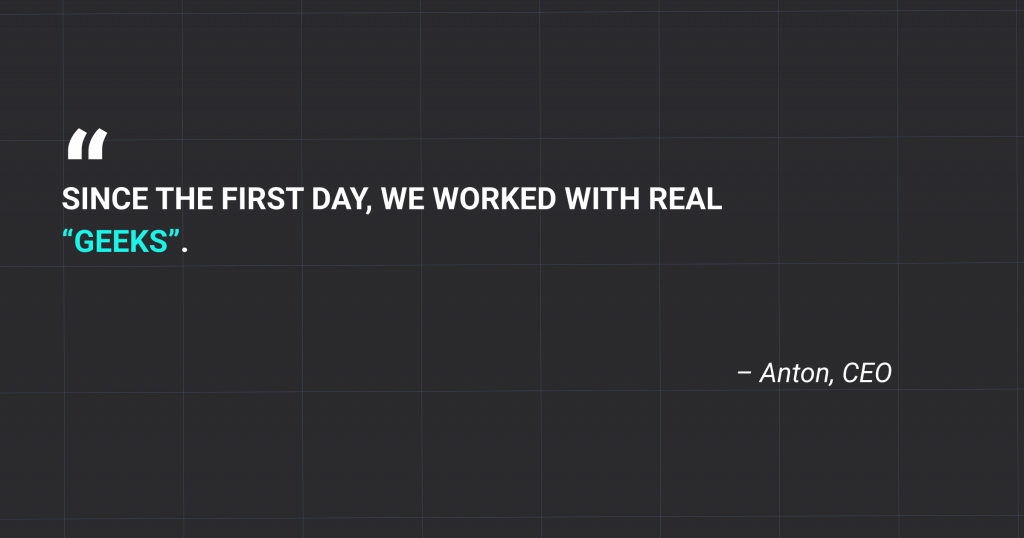 Growing to a trusted technology partner
What has changed since the launch of KindGeek?
Anton, CEO
People who joined us on our path formed the company we are today. We became more professional, and we work with bigger clients on technologically advanced projects. When we were just starting, we could make mistakes doing something for the first time – and it is okay. We had to go through this step to become a platform for positive change for our clients and partners.
At the same time, the atmosphere and values did not change much. We are still as open to the initiative and ready for change as we were initially. What has improved – is our focus. Now, we work with ambitious clients that get closer to the image Yura and I had in mind when launching KindGeek.
The vision that we used to inspire people to join us during the first months has now become a reality. We formed a portfolio of successful projects and created a place people wanted to work in.
Yuriy, COO
If I had to answer in one sentence, I would say that we finally became a real company. KindGeek is not a business that needs micromanagement or entirely depends on the C-level. We set processes and built mechanisms that allowed us to be efficient in our work. It did not happen in one day – we were constantly enhancing the approach for years. It is essential to keep the speed up in our business and be ready for change. We focus on making the operational processes more efficient by implementing new tools, technologies, and practices.
Michael, CTO
When I joined KindGeek, first as a consultant and later – as a CTO, it was still a young company. Now we work on a different level – with more technically complex projects, enterprise clients, better processes, innovative technologies, mature employees.
The launch of GeekHub, our resource management platform, had a lot to do with the growth and transformation of the company. GeekHub helps us to manage teams, track employees' workload, manage day-offs, vacations, birthdays, analyze performance and progress. For recruiting it is a tool integrated directly with a career portal to open vacancies. For sales – an opportunity to manage customers' rate cards, generate invoices. GeekHub is a core for the company's operations – it helps us to stay on track.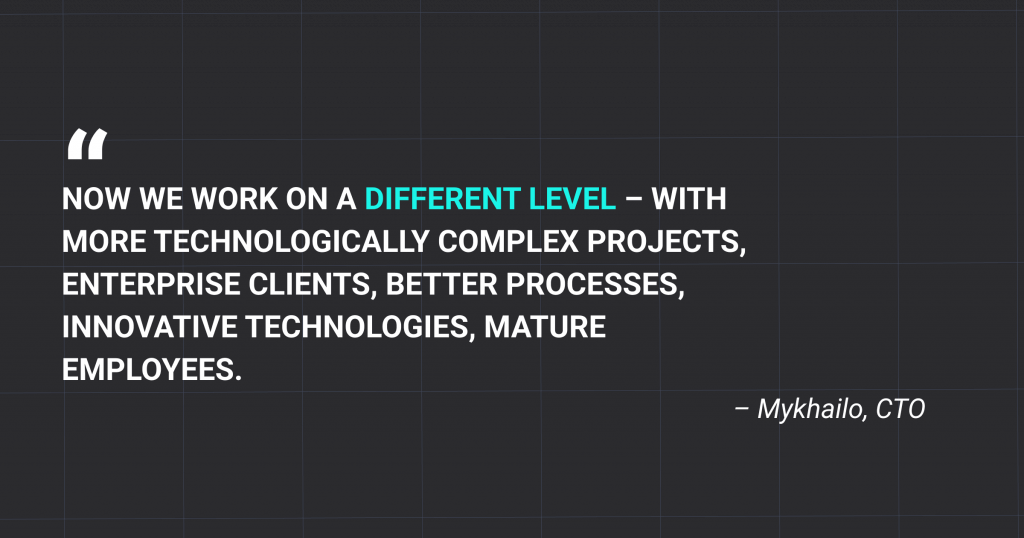 Conquering the challenges
What are you proud of the most?
Yuriy, COO
I am proud that we could implement our strategy for growth and development no matter what. The beginning of 2020 was a real challenge for us in terms of financial stability, employees, clients. In my career, I have never had such challenges before – the global financial crisis of 2008 happened when I was still in high school. During that time, we created a document of 200 pages that included the decisions and adjustments we had to make due to the pandemic. Thanks to our team, we could go through this time successfully – we even had an increase in revenue and number of employees.
Michael, CTO
I never liked remote work and could not even imagine how it is possible to manage a company online – without an opportunity to communicate in person, see body language and quickly understand what is happening on the project.
That is why in March of 2020, I was worried about the processes in the company – we suddenly became far away from each other. We quickly set up the tools and routines for remote work and got many benefits from it. For example, we could hire people from any part of Ukraine and even from abroad. Remote work opened up many new opportunities for us.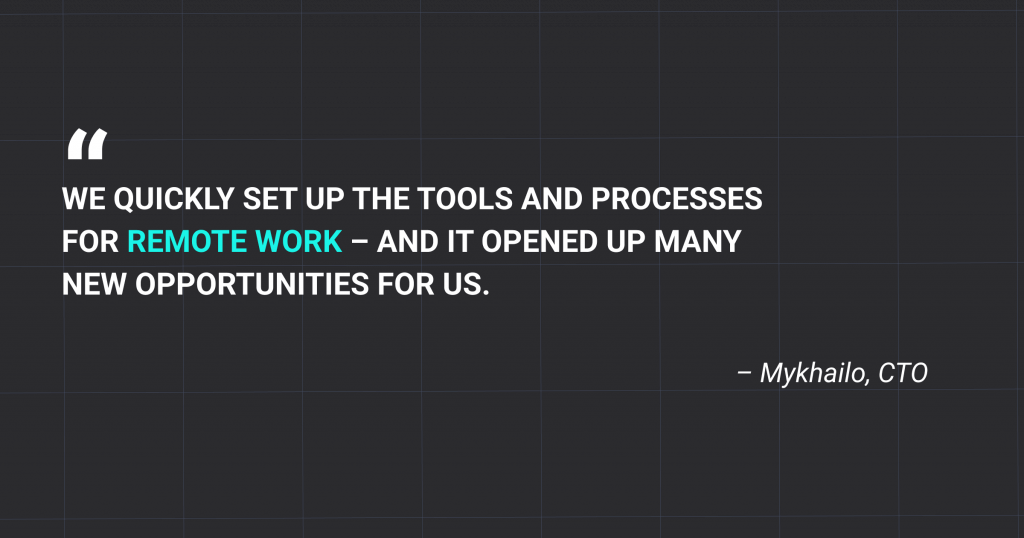 Would you change something in the history of KindGeek?
Yuriy, COO
We cannot change the past – only the future. If I could change something in the history of KindGeek, it would not be the same as it is now. I feel like we are on the right way on the strategic level, so I would not change anything.
Anton, CEO
No, not at all. Everything happened step by step, and just like it should be.
Join us on our journey – discuss a project or check out open positions.