November 16th, 2023 — Kindgeek proudly announces its recognition as a 2023 Global Award winner for Fintech Software Development Services on Clutch, the preeminent global marketplace for B2B service providers. This accolade is a testament to Kindgeek's unwavering commitment to industry excellence, underscored by our proven expertise and exceptional delivery capabilities.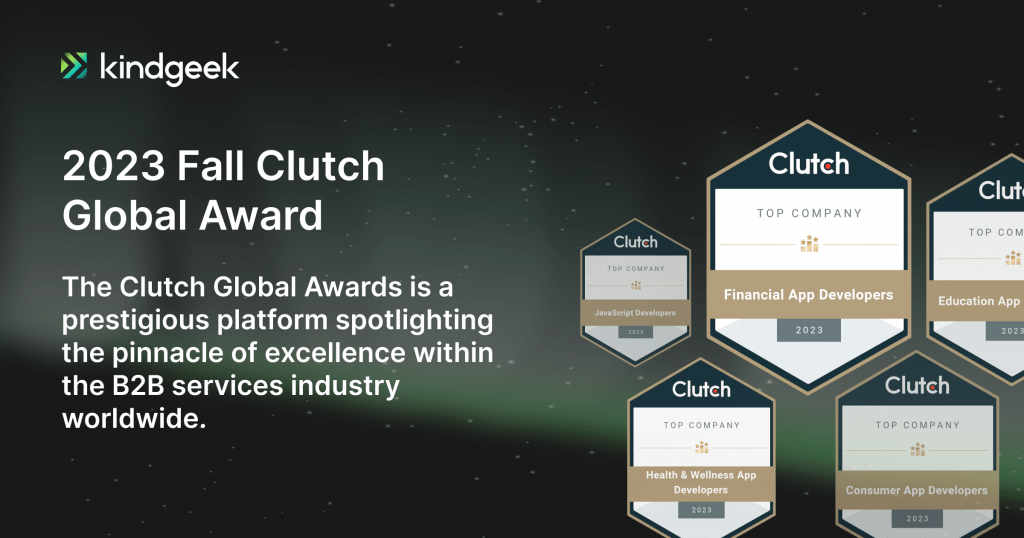 Our acknowledgment as a 2023 Fall Clutch Global Award winner reflects the trust and satisfaction garnered from our clients, as evidenced by the multitude of reviews on Clutch. At Kindgeek, we take pride in shepherding the entire lifecycle of fintech product development — from ideation to deployment and beyond. Our approach is characterized by a product-oriented mindset, addressing fundamental business needs with innovative fintech software solutions.
A quote from our CEO encapsulates our collective sentiment:
"At Kindgeek, we don't just create software products; we craft solutions that resonate with the world. Our journey is rooted in understanding our value in the global landscape, driven by a values-oriented and ethical approach to innovation. Innovation is more than a buzzword; it's a conscious choice to uplift, contribute, and redefine industry standards. Our values guide us, and our clients inspire us. Together, we're not just embracing the future; we're shaping it with purpose and passion for finance and beyond." – Yuriy Gnatyuk, COO of Kindgeek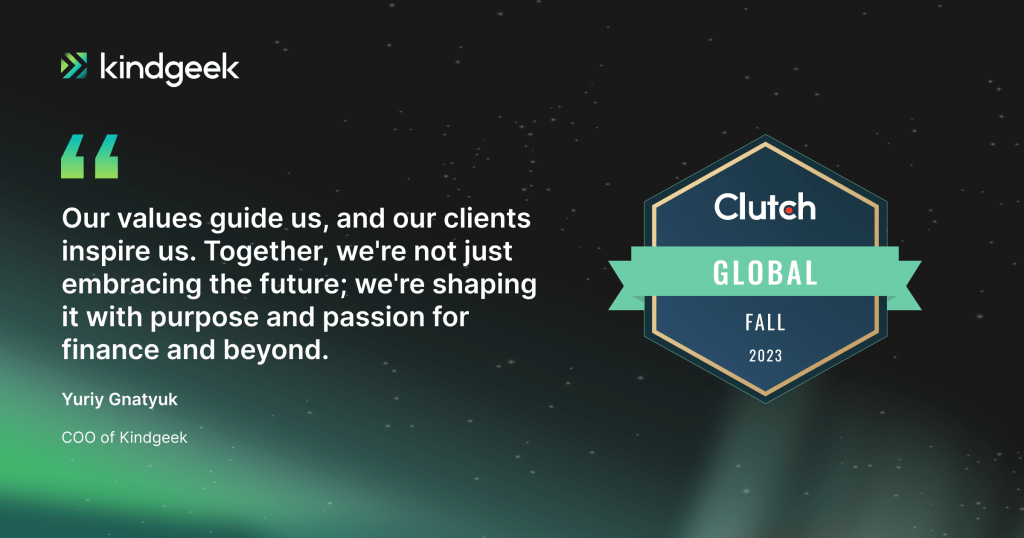 Being recognized as a leader in Fintech Software Development Services on a global scale fills us with pride. The Clutch Global Awards are a prestigious platform spotlighting the pinnacle of excellence within the B2B services industry worldwide.
Sonny Ganguly, CEO of Clutch, shares his enthusiasm for the outstanding success showcased on the platform:
"We are thrilled to showcase the incredible success of leading companies worldwide on our platform," said Sonny Ganguly, Clutch CEO. "Their dedication to delivering outstanding services has not only contributed to their own success but has also empowered countless clients to thrive. We aim to highlight this year's industry frontrunners and facilitate connections for Clutch users seeking top-notch services tailored to their specific needs."
At Kindgeek, we remain dedicated to pushing the boundaries of fintech innovation, and this recognition fuels our passion to continue delivering unparalleled solutions for our clients globally.