October 2023 — Kindgeek, a leading one-stop-shop custom fintech software development provider, launches a comprehensive suite of AI assistant services to help businesses seamlessly build and deploy custom AI chatbots powered by the state-of-the-art OpenAI models and beyond.
Operational efficiency and impeccable customer service are two evergreen business priorities that are often difficult to attain. Especially given the rapid market dynamics and ever growing customer expectations.
Indeed, recent figures indicate that 77% of companies see customer service as a critical business priority, while 73% recognize a clear-cut connection between customer service and business performance.
Being interrelated, customer service and operational efficiency can be turbocharged with an advanced AI chatbot.
Now, with recent strides in AI, building a chatbot with cutting-edge AI has become easier than ever before.
OpenAI's impressive GPT models and similar are a perfect building block for creating custom, fully functional conversational chatbots.
The benefits are numerous, use cases are diverse, and the potential for transforming the way you engage with customers and streamline business operations is truly remarkable.
Excited to dig deeper? Let's jump right in.
Looking into the business value
Exceptional digital customer service
With the help of a GPT-powered chatbot, businesses can build meaningful connections with customers and effectively address their needs, as it has superb conversational skills and can understand user intent behind the query. Additionally, such an AI assistant can retain context and understand human sentiment to form more relevant responses. On top of that, with data from previous interactions, businesses can personalize interactions at scale and uncover upselling opportunities, as 73% of customers expect to receive a tailored service.
Improved operational efficiency
GPT-driven AI assistant empowers businesses to address customer support inefficiencies and supercharge agents' productivity by automating first-line customer support. Given that 40% of tickets are repetitive, support representatives can redirect their efforts to more complex, value-added tasks and let AI easily handle the rest. Such a move not only leads to enhanced efficiency but also allows to smartly optimize costs and redirect them to enhance other business areas.
How it all works
Large language models, just like GPT, are a great building block for creating smart AI chatbots for businesses.
With its impressive out-of-the-box knowledge, coupled with substantial training efforts invested and outstanding NLP capabilities the model has developed, tapping into these strengths becomes a matter of fine-tuning.
This involves training the model with your business-specific data and adjusting essential parameters as necessary.
Apart from the evident benefits of fine-tuning with respect to the quality of outputs, such an approach also ensures security of your data, as the model becomes a private one.
With open API provided and fine-tuning available, Kindgeek experts can connect and customize your own state-of-the-art AI model to power up your business with a smart chatbot.
Let's have a glimpse into use cases
As businesses incorporate GPT-powered chatbots into their operations, the potential applications are broad. From handling customer queries and troubleshooting to recommending products and services, these chatbots can become invaluable virtual assistants that improve customer satisfaction and streamline processes.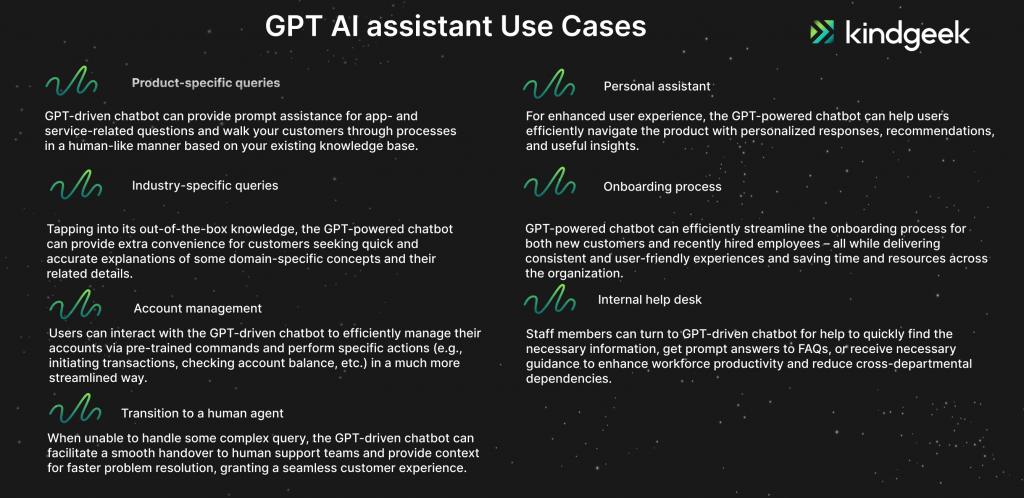 Benefits of GPT AI assistant
From providing helpful, human-like support to delivering personalized interactions and scaling automation, GPT-driven chatbot contributes to improved customer satisfaction, turbocharged staff productivity, better resource allocation, cost savings, and overall business success.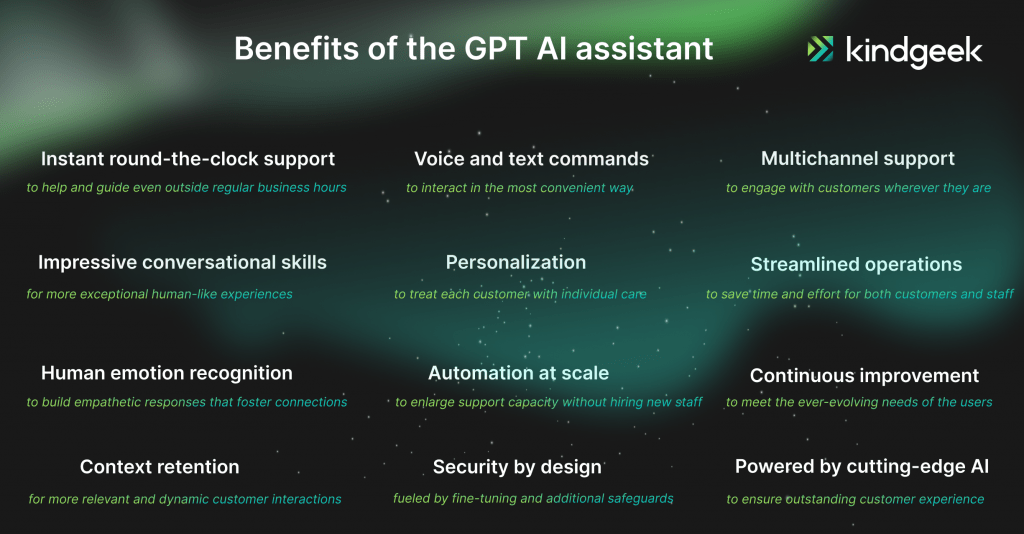 Prospects of a more advanced chatbot version
Yet, it is possible to supercharge the GPT-driven chatbot and drive an even more immersive, human-like experience, blurring the lines between human interaction and AI to a greater extent.
With advanced text-to-speech technology coupled with real-time animation, businesses can craft their digital brand persona to engage in conversations with customers to boost satisfaction, engagement rates, and help them form a better connection with AI representatives, which contributes to long-lasting and mutually beneficial customer relationships.
Unlock the power of GPT for your business
With its strengths, GPT-driven chatbot is a powerful asset for any business, allowing companies to drive tangible improvements with fewer resources.
Our commitment to providing innovative solutions that drive transformational potential has led us to develop a comprehensive suite of AI assistant services to help you seamlessly craft your custom AI chatbot powered by the state-of-the-art OpenAI models and beyond.
Having extensively worked with GPT-3 fine-tuning, our experts possess the necessary expertise to fine-tune, train, and integrate the model within your product and infrastructure.
We have determined the best practices and tested various GPT models to fit the chatbot use case best, both in terms of performance and resources needed.
Whatever your unique needs are, our experts possess the necessary expertise to help your business leverage state-of-the-art GPT models and similar.
From technical advisory services to end-to-end integration and prompt engineering, our team of experts is dedicated to meeting your unique business needs at any point along the digital transformation journey.
About Kindgeek
Kindgeek is a one-stop-shop product development company that illuminates how finance companies can reach their full potential with digital solutions. More than 200 companies have trusted Kindgeek to build their MVPs, products, and scale engineering teams.
From ideation to deployment and beyond, we guide through the whole process of developing fintech products. We build custom solutions from scratch and have white-label solutions that save time to market while resolving core business needs. Our Integration Hub unites fintech leaders, aligning solutions with unique needs. Embrace AI, open banking, chatbots, BNPL, core banking, and WEB 3.0 through our expert approach.
We constantly leverage new technologies and grow into a fintech product and services ecosystem while building long-term partnerships based on trust and collaboration.