Ukrainian IT outsourcing success is an achievement of the local workforce. Proficient employees, who are able to handle different tasks efficiently, are the core of the Ukrainian software development industry, while economic factors and a convenient taxation system are very pleasant bonuses.
The outsourcing field continues to grow as well as the quality and quantity of the professionals. The desire to participate in a prospective and popular niche is one of the factors that fuel the growth of the Ukrainian software development industry. However, considering the ever-growing number of employees, an assumption that this is the definitive factor would be an understatement.
We determined 4 ingredients that are essential for generating demanded and competent workforce on such a scale.
Content
Ukrainian Software Development Outsourcing Market Overview
In 2021 alone, the Ukrainian tech industry grew by 36% and brought the country $6.8 billion in export earnings. This is an industry with 285,000 specialists and the largest tech hubs in Kyiv, Lviv, and Kharkiv. Being a relatively new territory for technologies, Ukraine has less red tape, a lot of enthusiasts, and very competitive hourly rates. This Eastern European country also presents an ever-growing number of IT specialists, including Java, Python, JavaScript, PHP, and other developers. On top of that, more than two-thirds of professionals demonstrate at least intermediate and higher levels of English proficiency.
Why Do Companies Outsource Software Development?
Before we talk more about outsourcing software development to Ukraine, let's explore the reasons for IT services outsourcing. Why do more and more companies prefer to delegate their software development projects in the first place and what is the catch?
Cost-effectiveness
IT outsourcing is the number one choice for many businesses for the ability to save quite a lot on costs. First of all, by outsourcing your project you are allowing yourself to focus on other important business goals. Secondly, your software development vendor will give you an accurate estimate to help you plan and build financial projections. Finally, if you manage to find an experienced company in the Ukrainian IT market, the costs will be lower due to high productivity and efficiency. Companies with years of experience know all the common mistakes, pitfalls, risks, etc., and can navigate your project in the right way.
No extra hiring procedures
Hiring software developers is not an easy process. Especially for senior positions, the hiring process entails many steps including technical skills assessment. If you do not have anyone on staff who can objectively evaluate hard skills, you will experience roadblocks. Additionally, filling in-house positions always require extra funds for benefits, HR compensation, taxes, pensions, office equipment, etc.
Guaranteed expertise
Finally, another advantage of outsourcing is the ensured high quality of the results. IT project outsourcing implies signing up a legally binding contract that requires the vendor to fulfill a certain number of duties. This way, you are fully protected from a low-quality job and remain in control of your projects. Besides, if you do your due diligence and hire a company with extensive experience, the quality is guaranteed.
How Does IT Outsourcing Work in Ukraine?
The government is using legislation to enhance the load of software development outsourcing in Ukraine. For example, IT companies receive tax breaks from the Ukrainian government which makes the IT industry the fastest-growing in the country. Even amid the COVID situation, economic crisis, and military instability, IT in Ukraine still manages to grow larger.
The two most common approaches to IT outsourcing in Ukraine are the fixed-price model and the time-and-materials model. The former model refers to estimating a fixed payment for the entire project and losing room for flexibility. However, it is a great approach for a company that has a tight budget and cannot afford to include costly changes to the scope. The second model provides room for new features, alterations, and requirements changes. The payment is calculated on the go and can vary quite drastically depending on the number of alterations.
Why Ukraine Is a Good Choice for Software Development Outsourcing
Excellent education
A good education is a foundation of professional success, especially in the IT sector, which requires highly specialized knowledge or the ability to learn fast. Ukraine is one of the most educated countries in the world. According to WorldAtlas, in Ukraine, "46% of adults have achieved a tertiary level education," while due to the Ministry of Finance of Ukraine, "99.7% of Ukrainians are literate." Furthermore, Ukraine has the highest number of certified engineer graduates in Europe.
Increasing number of IT specialists
With over 200,000 IT specialists as of now, the number keeps growing at least 36,000 each year. The market for new IT professionals in Ukraine is relatively new and is very far from oversaturation. And even though the demand is getting high, the number of people who wish to become developers, QAs, or UI/UX designers is even higher. It means that only the most talented, skilled, and persistent get the job offers.
Early career start
Ukrainian developers tend to start their careers quite early. In some instances, people begin to work for outsourcing companies in their early 20s while still studying at universities. At the same time, software companies provide their employees with a flexible schedule, so students can attend classes.
Good language skills
Public schools in Ukraine include a decent amount of English lessons into their curriculum. As a result, the vast majority of educated people have good English skills.
Multiple R&D centers
Even 500 Fortune companies like Microsoft, Samsung, Apple, Skype, Siemens, Oracle, and more build their R&D centers in Ukraine due to a vast talent pool and low costs.
Great potential
Ukraine is a young country and is only making its very first steps in the global arena. Its citizens are building their homes. They realize their responsibility and the necessity to manifest their potential to the world. The realization of such responsibility is a powerful motivation.
Cost-effectiveness
Compared to the US and Western European rates that come at $80 to $100 per hour, Ukrainian developers accept $40 to $50. The rates are bound to increase over time but right now they are one of the most affordable on the market.
7 Successful Startups That Were Outsourced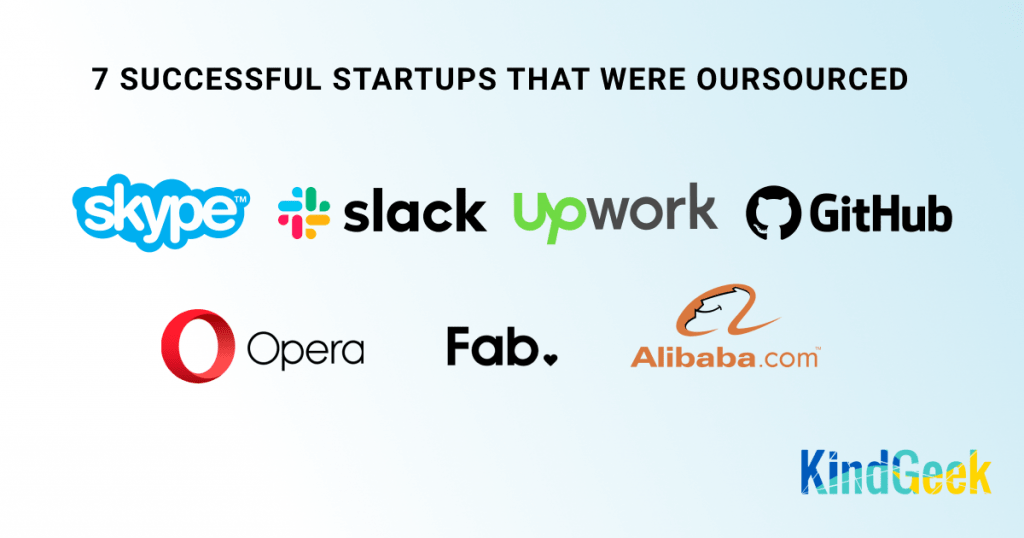 At the same time, outsourcing a project entails losing some control over your project. As much as you can try to stay on top of the process and establish continuous communication, something might still slip through. Are there any examples of successful startup outsourcing? We have collected the top 7 startups that were successfully outsourced.
1) Slack. One of the most popular workplace services for communication. Slack outsourced its design to Canada. The result is well-known: a streamlined, stylish, and attractive application.
2) Skype. Another s-named messenger cooperated with Estonian IT professionals, who helped them to develop the product.
3) GitHub. Yep, it would be strange if this service had not used the help of different developers from different countries.
4) Upwork. Naturally, the service that helps freelancers survive used the help of freelance contractors as well.
5) Opera. The Internet browser with a 350-million audience also outsourced developers from different countries.
6) Alibaba. The Chinese E-Commerce giant was also developed with the help of an outsourcing company.
7) Fab. Also a large E-Commerce company but from the US. Fab's founder Jason Goldberg worked with an Indian outsourcing company to develop his project.
FAQ
Why should I turn to outsourcing software development in Ukraine?
The Ukrainian IT market is rapidly expanding and actively encouraging new tech companies and endeavors. Ukraine is a great destination to outsource due to its cost-efficiency, wide talent pool, flexible legislation, and a multitude of new IT minds.
Is Ukrainian software development outsourcing affordable?
Yes, IT outsourcing to Ukraine is a very affordable collaboration as the average hourly rates are $40-50 and twice as low as the US and Western European salaries. Most outsource software development companies in Ukraine charge $40 max and deliver great results.
How do I find an IT outsourcing provider in Ukraine?
Before signing any contracts and making any deals, do your own research and visit the company's website to familiarize yourself with their portfolio. If you are satisfied with their experience and clients, get a consultation to discuss further details. Remember, a reliable partner will be forthcoming and open to any questions concerning the workflow.