Kindgeek has once again made a significant mark in the fast-paced world of technology and finance. We're thrilled to announce that Kindgeek is now featured in the esteemed Incredible Tech catalogue, a collaboration between the IT Ukraine Association and the Ministry of Digital Transformation.
This catalogue showcases outstanding Ukrainian IT products and the talented individuals behind them, spanning various sectors, including the dynamic field of FinTech. What's particularly noteworthy is that Kindgeek's spotlight in the catalogue shines on our latest innovation: the White Label Neobank Service.
Incredible Tech: Showcasing Ukraine's IT Prowess
Incredible Tech is not just an initiative; it's a movement changing the game in the IT industry. With over 2,300 companies in the Ukrainian IT landscape, the catalogue features only the most remarkable and promising among them.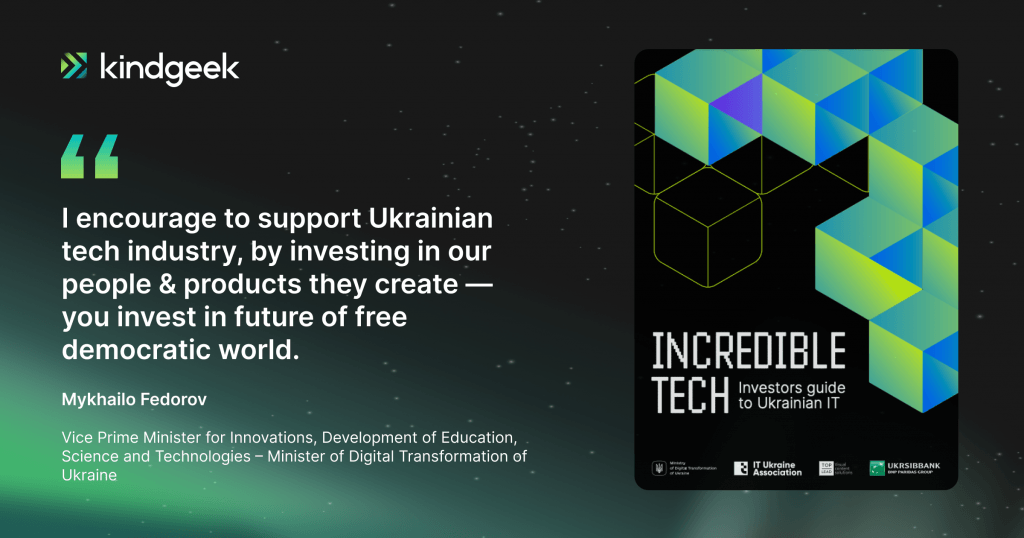 The Top Benefits of White Label Neobank Service
Kindgeek's White Label Neobank offers a streamlined path to launching your fintech product. With a rich array of pre-built features and tailored customizations, it allows you to swiftly bring online finance business to life or digitize operations without a hefty upfront investment. Our solution accelerates the development cycle, getting financial products up and running faster and saving time and resources.
Multi-currency accounts: Let your customers hold funds in the currencies of their choice, a feature that resonates with the global clientele.
Currency exchange: Customers can operate in any currency they need, streamlining international financial transactions.
Visualization: Categorize users' spending and present it as charts and diagrams, offering a visual representation of financial data that resonates with data-driven users.
Visa/MasterCard issuing: Offer cardholder services via issuing Visa/MasterCard cards linked to the customer's account. With vendor integration, Kindgeek makes it seamless.
Popular payments: Integrate local vendors to enable utility bills and internet payments, cell phone top-ups, and payments for other services, creating a one-stop solution for financial needs.
P2P money transfers: Allow quick cash transfers to clients' friends and family, saving time and simplifying transactions, especially in a world where speed is of the essence.
Bank as a Service: A Game-Changer
Kindgeek's White Label Neobank is your gateway to a versatile range of fully customizable financial services tailored to your brand and business requirements. Our platform empowers you to effortlessly offer mobile banking, digital wallets, and online payment solutions to your customers. What sets us apart is our unwavering commitment to providing a seamless and secure financial experience, ensuring that your customers can transact with confidence and convenience.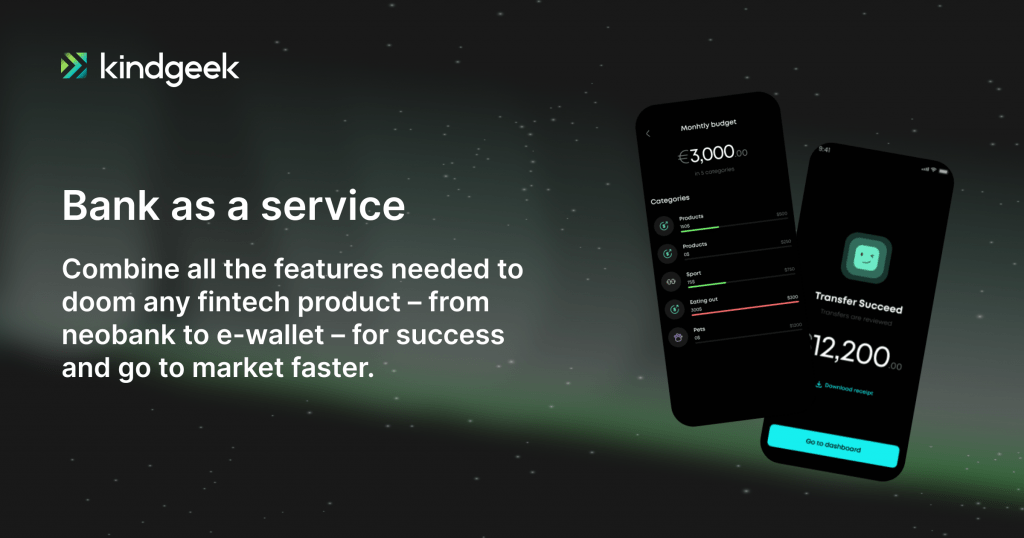 Development Cycle Shortcut: With Kindgeek's Neobank Service, you can bring your product to market faster, reducing the time to revenue.
High-Level Security: The platform's security measures leave no room for vulnerabilities, ensuring your financial services are protected to the highest standards.
Diverse Functionality: The platform's versatility enables businesses to offer their customers a wide range of financial services, appealing to a broad and diverse audience.
Why Kindgeek's Neobank Service Is Incredible
The White Label Neobank Service is a robust foundation for various fintech products, designed to be a reliable backbone for digital payment products, from money transfers to payment acceptance, Neobanks, and eWallets. As Kindgeek joins the ranks of Incredible Tech, it's clear that our commitment to excellence and innovation is being recognized globally.