Every industry intensifies at a fanatic pace, and banking and finance are no longer an exception. With the inception of disruptive technologies, the industry will reach $12.51 billion in 2022 to $40.67 billion by 2029, at a CAGR of 18.3% in a few years. Now, have you ever come across the term core banking system? If not, then this is what we will be discussing further in the following post. Here, you will better understand core banking software or systems and learn about the top core banking software companies to consider in 2023.
Today's customers are looking around for more control and autonomy, especially when dealing with their finances, thanks to current and evolving technological trends in the digital banking realm. Moreover, banking and finance institutions all across the globe are found introducing customer-friendly core banking solutions to boost customer satisfaction and win more and more loyal customers. Some of the best examples to take into account are Oracle and IBM. After incorporating disruptive technological advancements, automation and advanced data processing have resulted in fine-tuning operations and whatnot!
Also, one must understand that the market is evolving at a breathtaking pace. And now, you must be wondering, what is the core banking system, and how does it matter?
Core Banking Software
The standard definition says that core banking is a back-end system that has the potential to connect multiple branches of the same bank. So, what exactly can core banking systems assist with? It covers everything from loan management and withdrawals to deposits and payments in real time.
A CORE Banking software is a Centralized Online Real-Time Environment that ensures its end users gain a banking experience like never before. In other words, customers do get the liberty to conduct transactions from any location across the globe.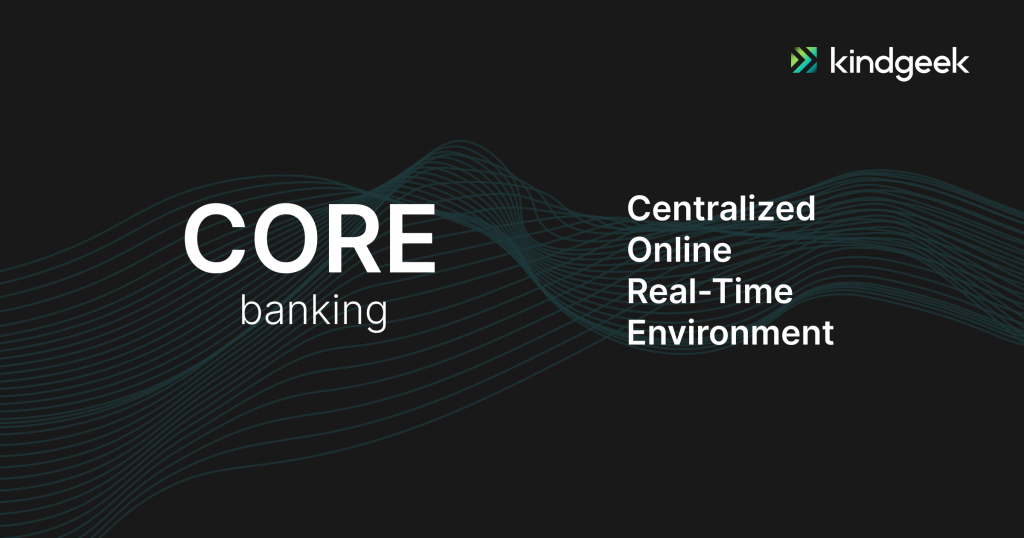 Now let us understand the workings of core Banking Systems.
The system works this way- as soon as a customer withdraws money from a particular ATM branch, the app responds by sending a request to the main centralized data center, and further operations are being conducted. The data center comprises a database, an application server, a web server, and a firewall to protect the system from a vivid range of malware attacks. And what is the best part here? The banks can host the data center locally or on the cloud, depending on their situation.
An ideal Core Banking System Comprises of:
● Accounting
● Centralized Dashboard
● CRM
● Risk Management
● Operations
● Customer Onboarding
● Push Notifications
● Live Chat
● Reporting
● Deposit and withdrawal management
● Transaction Management
● Two-Factor Authentication
So what's more to ask for when you have a system that can assist in conducting robust, secured, and scalable transactions, enhanced as well as precise document management, customer retention, and whatnot?
● All the tedious manual banking functions are eliminated
● Assessing, managing, and upgrading data becomes pretty simplified
● Great usage of workforce and skills
● Quick and easy access to information
● Seamless and quick decision-making is possible
● Enhances customer relationships by building immense trust
The ultimate objective behind the core banking system is to offer tailor-made offerings to the end users seamlessly and conveniently. Ensure that aspects such as Onboarding, payment processing, card issuing, and KYC services are well integrated within these systems. Now, without much delay, let us find the top core banking software companies with a proven track record of developing great software that eventually leads to creating digital experiences like never before. Also, when developing a core banking system or software for your organization, there are better options than relying on one particular vendor.
Fret not. Here is a top Core Banking Software list to take into account. So let's get started!
Top 5 Core Banking Software Companies List
1. SDK finance
The first and foremost name to consider is SDK finance. This one is a reputable core payment software provider that offers an amazing bunch of services for banks and fintechs. SDK Finance was established in 2013, and after such a vast span, the leading company has gained enough potential to offer highly secure and mobile-ready solutions to enhance its customer relationships and create a reputable name in the fintech world.
SDK finance comprises a real-time processing engine and back-end wrapped in 400+ API endpoints among white-label retail software solutions. One of the best aspects to consider here is that all the software and solutions available here are highly flexible and scalable, significantly gaining a competitive edge across the globe.
In partnership with SDK Finance, Kindgeek offers a customer-centric, cloud-based SaaS fintech solution to serve as a foundation for digital finance products. The customizable white-label core allows you to build on top of it and create a unique customer experience. There is no need to start from scratch – go to market quickly and cost-effectively.
The SDK platform offers a robust infrastructure, ease of integration, and the ability to focus on customer and product experiences.
API-first approach (400+ RESTful APIs)
Cutting-edge technology stack
Scalable infrastructure
Security by design
Flexible CI/CD
Fault-tolerancе
Combine all the pre-built features needed to doom any fintech product – from neobank to e-wallet – for success and make it suitable for your core business processes.
2. Skaleet
The following fantastic core banking software company to take into account is Skaleet. The company seamlessly uses the next-generation technology platform and ensures the delivery of tomorrow-based solutions in today's times. Here, you will find a reliable SaaS Core Banking Platform designed to meet every financial institution's different needs. When you want to upgrade your inner systems and software, leave it to Skaleet, and what you need to do is focus on your core competencies.
The renowned IT company comprises a highly flexible, scalable, and seamlessly deployable infrastructure. So here, the company is ready for every financial crisis or issue. So, whatever your need is, whether you want to create or orchestrate your own ecosystem and launch new financial services, design new user experiences, or develop seamless customer acquisition/retention activities, Skaleet is the ultimate core banking software company you should consider. Why is Skaleet on the global list of the best core banking software companies?
● Workflow orchestrator
● Product Engine
● Seamless KYC Onboarding
● Payments
● Loans and Lending
● Deposit and savings accounts
● Banking Accounting
● KYB onboarding
● Tariff and fees
● Distribution
● Regulatory reporting
3. Finastra
The following fantastic core banking software company to take into account is Finastra. Now, here, the game has become international. Yes, this international company has gained popularity among different banking and securities industries. So, what exactly does Finastra offer? Everything from core banking software to treasury, capital market software, digital banking solutions, and above all, fusion banking solutions.
The leading core banking software development company recently announced that Finastra and DXC technology company Luxoft have decided to conduct a new managed service partnership agreement, significantly to aid Finastra's Kondor customers in the EMEA region transition to the cloud.
4. Oracle Flexcube core banking
Oracle Flexcube Universal Banking is one of the most popular core banking software designed to modernize every bank's core systems. Additionally, this software tends to support the digital transformation of banking processes and procedures of the future.
The particular core banking software is developed by a reputable company named Oracle Corporation. Again, this one is a multinational technology-based company in the USA. Here, you will receive end-to-end solutions for conducting different banking operations featuring seamless customer onboarding, account management, payments, loans, and treasury management.
Banks and financial institutions in over 140 countries currently use the software suite, serving more than 500 million customers. Wondering why? Since it offers high-end scalability, flexibility, and fantastic security features with seamless, personalized services, why not? The core banking software has resulted in improved operational efficiency and a severe reduction in costs.
5. Backbase
And last but certainly not least is the Backbase. This particular core banking software is the ultimate choice for more than 80 banks across the globe. Backbase empowers financial institutions to place digital at the core of their business models. The company's Omni-Channel Banking Platform is preferred by Barclays, Credit Suisse, Deutsche Bank, Fidelity, ING, and many more. Since the inception of Backbase in 2003, several banks and financial institutions have felt relieved and thrilled to develop compelling experiences for different digital channels.
Some of the core benefits Backbase offers include customer experience management and unparalleled speed of implementation.
Conclusion
In conclusion, the landscape of core banking software companies in 2023 is evolving rapidly, with dynamic partnerships and innovative solutions shaping the industry's future.
Kindgeek, known for its commitment to excellence in software development, has joined forces with SDK Finance, a prominent player in the finance and banking sector. This partnership underscores the importance of harnessing technological advancements to meet the ever-growing demands of the financial industry. By combining their expertise, resources, and a shared vision for innovation, Kindgeek and SDK Finance aim to empower banks and financial institutions with robust core banking software that enhances efficiency, security, and customer experience.
Discover Kindgeek's pre-built core banking software that will be a solid core for any fintech product – from neobank to e-wallet.
About the author
The authorship of this publication is a result of a collaborative effort with Charles Richard, a proficient freelance writer with aspirations in self-publishing. The viewpoints and ideas conveyed in the content solely belong to the writer, presenting distinct perspectives and valuable insights.