Growing. A huge part of any small business's lifecycle. Choosing a payment gateway for your small business is the same as picking up the grow-with-me pants for the child. In an attempt at simplicity, some payment systems may risk becoming barebones solutions that could struggle if your small business scales.
In this article, we will explore the 3 best online payment gateways for small businesses that can grow together with your small business and ensure your customers' data security.
Note: if you are looking for the best mobile payment gateway, check out our previous article on Mobile Payments Gateway Integration.
---
How we evaluated best payment gateways for small business
1. Grow-with-me principle
Is the payment gateway flexible enough to scale as your business grows?
2. Pricing
Does it require the setup and monthly fees? What about the transaction fee?
3. Supported payment methods
Will your customers have a good checkout experience and? If so, they will be back!
4. Customer service
If something goes wrong, will you get help instantly?
5. Security standards
Will your customers trust your business? Can you ensure that their card data is in safe hands?
6. Integration simplicity
How much effort will you need to put into the payment gateway integration?
---
3 Best Payment Gateways for Small Business in 2021
Here's our rate of the best payment gateways for small business:
1. Stripe: most customizable payment gateway
Founded in 2010, Stripe's initial purpose was to provide a simple way for start-ups to accept online payments with just a few lines of code. Since then, it has developed a range of products that make it easier for start-ups and small companies to do business online. Now, it's being used by small local businesses as well as the world's leading brands including Amazon, Uber, booking.com, Deliveroo, NBC, Just Eat, and Google. Whenever you are building a custom solution for your small business or integrating with an e-commerce platform, Stripe offers different kinds of scalable solutions for both online and in-person payments.
Stripe overview
Cost
Stipe doesn't require any setup or monthly fees but the transaction fee is 2.9% + 30 cents per transaction.
Supported payment methods
Apart from various types of credit cards, Stripe supports lots of payment methods:
Alipay
Apple Pay
Bacs Direct Debit
Bancontact
BECS Direct Debit
Click to Pay
EPS
FPX
Giropay
Google Pay
iDEAL
Klarna
Microsoft Pay
Multibanco
OXXO
Przelewy24
SEPA Direct Debit
Sofort
WeChat Pay
Here's a full list of the payment methods supported by Stripe.
Why is it crucial that your payment gateway provider supports many payment methods even if your business is small? There are several reasons why: reaching global customers, increasing conversion rates, and assuring a good customer experience. Read more about how to select the right payment methods for your business in Stripe's blog.
Customer service
24/7. Through email, phone, or chat. Other than that, Stripe also has a support service that addresses the most common issues associated with Stripe integration or any other user's questions and needs.
Security
You should be able to validate your PCI compliance to use Stripe. The easiest way for you to be PCI compliant is to not have access to your customers' card data at all. Stripe does all security heavy lifting to protect your customers' credit card information.
Read Stripe's security integration guide for more info.
Integration
Stripe has a "developer-first" approach. It started as a payment system that could be integrated just with a few lines of code and continues to follow this principle. What's more, Stripe supports more than 660 third-party integrations across marketing, sales, finance, operations, and e-commerce.
Sum-up
| | |
| --- | --- |
| Pros | Cons |
| ✅ No setup and monthly fees. 2.9% + 30 cents per transaction. | ❌ Requires technical expertise and resources for the right integration and customization. |
| ✅ Easy integrating within a custom solution or an existing e-commerce platform, making it the best payment gateway for small e-commerce businesses. | ❌ In-person transactions lack features and reliability. |
| ✅ Supports various payment methods. | |
---
2. PayPal: top payment gateway for small business
PayPal is among the world's best payment gateway for recurring payments small business with more than 20 years on the market. PayPal offers a wide range of products that your small business can benefit from:
PayPal Checkout: a one-and-done payment solution that lets your business accept a range of payment types. It automatically offers your customers the most relevant payment options – whether it's PayPal, Venmo, PayPal Credit, major credit or debit cards, or a local payment method.
PayPal Payments Standard: a good payment integration solution if you want to implement it yourself. Adding payment buttons to your site takes little more than copying and pasting a few lines of HTML code – no developer help required.
PayPal Payments Pro is great for those who want to accept credit and debit cards, PayPal, and PayPal Credit, but need more customization options. It allows you to create a unique checkout process that's best for your customers. Payments Pro is the best payment gateway option for small businesses that are scaling and growing. For this reason, you will most likely need a professional development service.
PayPal Here: allows you to set on-the-go or in-store payments. It turns the smartphone or a tablet into a portable payment center.
PayPal overview
Cost
PayPal is free to set up. It charges 2.9% + 30 cents for online payments and 2.7% for in-person payments.
Supported payment methods
If you choose PayPal as a payment gateway provider for your small business, your customers will be able to use such payment methods:
PayPal
Venmo
ApplePay
AndroidPay
Bitcoin
Customer service
Phone: Monday-Friday, 5 a.m – 8 p.m PT. Saturday-Sunday, 6 a.m. – 6 p.m PT.
Customer service is also accessible through live chat or email.
Security
PayPal is one of the safest payment gateways. It automatically encrypts all transactions using secure sockets layer (SSL) protocol technology with 128-bit encryption.
Integration
We've talked a little bit about PayPal integration above. It all depends on the solution you are going to use. PayPal Payments Standard can be easily integrated without a professional developer, while PayPal Payments Pro needs customization.
Sum-up
| | |
| --- | --- |
| Pros | Cons |
| ✅ No setup and monthly fees. 2.9% + 30 cents per transaction | ❌ Limited in-person payment options |
| ✅ Fast and easy setup, making it the best payment gateway for small business website | ❌ Inexplicably frozen funds |
| ✅ Most trusted payment gateway. | |
---
3. Authorize.Net: most trusted payment gateway by small businesses
Authorize.Net is now a wholly-owned subsidiary of Visa. It makes it the best payment gateway for small online business in terms of security. It offers many customization options that make you good to grow and scale together with your payment gateway. Today, Authorize.Net is the payment platform most trusted by small businesses.
Authorize.Net overview 
Cost
Authorize.Net charges $25 monthly and 2.9% + 30 cents per transaction.
Supported payment methods
Visa
MasterCard
Discover
American Express
JCB
PayPal
Visa SRC
Apple Pay
Chase Pay
E-check
Customer service
Authorize.Net offers 24/7 customer support through phone, email, or live chat.
Security
Authorize.Net is well known as one of the most secure solutions on the market. It has simplified PCI DSS compliance that allows all businesses to keep their customers' vulnerable data secure. The 99.99% uptime of Visa's infrastructure helps keep businesses running with minimal downtime.
Integration
As a pure payment gateway solution, Authorize.Net can be integrated with many popular e-commerce platforms (for example, Shopify, WooCommerce, and BigCommerce) as well as custom applications. You can find API references and developer guides here.
Sum-up
| | |
| --- | --- |
| Pros | Cons |
| ✅ High security | ❌ $25 monthly fee |
| ✅. Easy to set up and use | ❌ Limited reporting and in-person payment features |
---
EBizCharge is the leader in integrated B2B Payments. In 2004 it was developed with the simple goal of offering small businesses better ways to accept payments. Specifically focusing on making transactions faster, safer, and less expensive. It has expanded into a payment platform that integrates into over 100 software programs and lets users choose how they want to get paid. Get paid faster and lower your overall processing fees with the world's most cost-effective payment system.
EBizCharge overview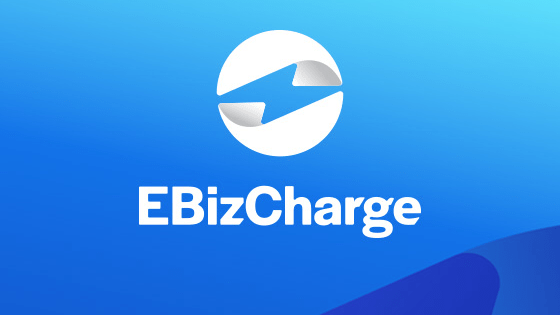 Cost
EBizCharge offers competitive, customized pricing. $0 starting costs. No hidden fees.
Supported payment methods
EBizCharge accepts all major credit cards small businesses typically see:
Visa
MasterCard
American Express
Discover
Customer service
EBizCharge offers 24/7 unlimited support at no extra charge.
Security
EBizCharge is a trusted provider that will keep your customer data secure and meet your PCI-compliance requirements. For them, this consists of working hard on security so you don't have to.
Tokenization & Encryption – no sensitive customer information is ever directly stored in the database.
Off-Site Data Storage – store data on their secure third-party server, reducing your liability and protecting your data from attacks.
PCI-Compliance – means a business complying with the operational and technical standards to ensure credit card data is safe. Failure to comply to these standards will result in costly penalty fees for your small business.
Integration
EBizCharge is the leader in integrated B2B Payments. With 100+ integrations such as QuickBooks, Salesforce, WooCommerce, and more, you can speed up payment collection without needing to open a third-party application. In addition, all payments received with EBizCharge will automatically sync back into your integrated system – updating the balance due. 
Sum-up
| | |
| --- | --- |
| Pros | Cons |
| ✅ Competitive, customized pricing. $0 starting costs. No hidden fees. | ❌ Limited in-person payment options |
| ✅ 100+ integrations | ❌ Must be in good standing to get approved for an account |
| ✅ Everything, including development, is done in-house, ensuring you get the best service and assistance  | |
Final Thoughts
Choosing a payment gateway requires "customer-first" thinking. If you are not sure what payment gateway would be best for both your customers and your growing business, don't forget to ask yourself the following questions:
Is the payment gateway

flexible enough to scale

as my business grows?
Is the

pricing

model good for my type of business?
Will my customers have

enough payment options

based on their location and online payment preferences?
Will I get

support

anytime I need it?
How much effort will I need to put into the payment gateway

integration

? Will I need a software development partner?
If you are hesitating about what payment gateway to choose and what development resources you might need, you can talk to our KindGeek expert to help you out.
Our Payment Gateway integration stories
At KindGeek, we believe in the customer-first approach, especially when it comes to such things as payment gateways.
Your users' checkout experience is what makes them come back (or not!). For this reason, we include a discovery phase in each mobile payment gateway integration project to learn more about the customers' needs and choose the best payment gateway provider.
Here are the stats of our payment gateway integration projects:
One of our PayPal integration customers, Lehrermarktplatz has recently got $25 million of investments. Lehrermarktplatz started as a small e-commerce store for learning resources and grew into a huge e-learning marketplace. Part of this growth was because together we selected a scalable and flexible payment gateway that was suitable for customers.
Read the story of our cooperation with Lehrermarktplatz here.