Cutting-edge technologies have become an inseparable part of the financial industry. Given their vast outreach and the considerable number of benefits, more and more market players go for fintech adoption, so the industry grows and develops each day tremendously.
A significant milestone in fintech has become the deployment of artificial intelligence, a true game changer that has revolutionized the financial industry in many respects.
The benefits of AI are immense: this innovative technology reduces unnecessary expenses, streamlines financial management, and increases earnings for businesses and people, just to name a few.
AI zealously drives the financial industry forward and will continue to do so in the future. With an overall market value of $8 billion in 2021, AI technology is predicted to reach $27 billion by 2026.
In this article, we'll look into how AI impacts the financial sector, overview AI examples in fintech, and discover how they disrupt the industry. Stay tuned.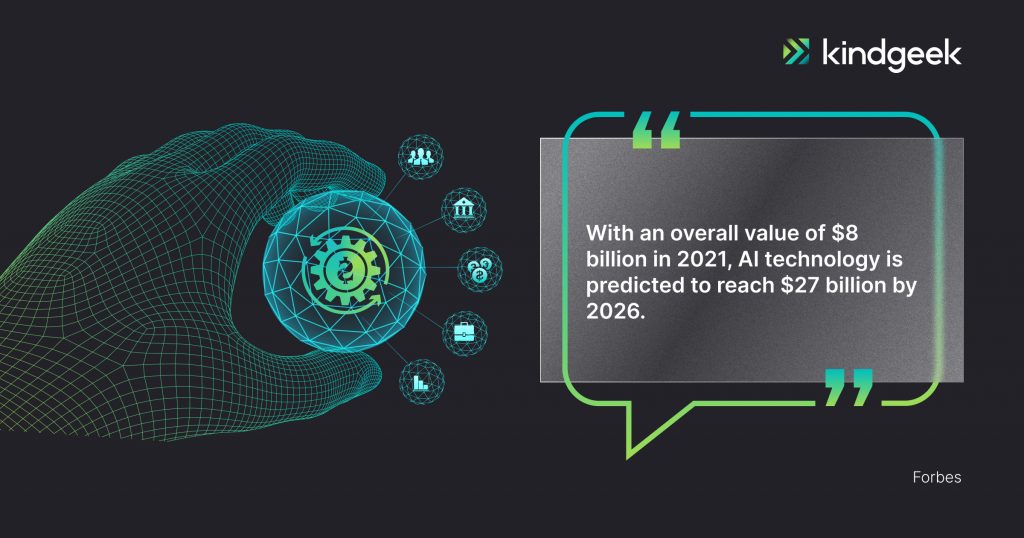 Content
1.AI impact on the financial industry
AI impact on the financial industry
Artificial intelligence pays off and represents several advantages that financial organizations are capable of leveraging. Let's take a look at the most prominent ways AI impacts finance: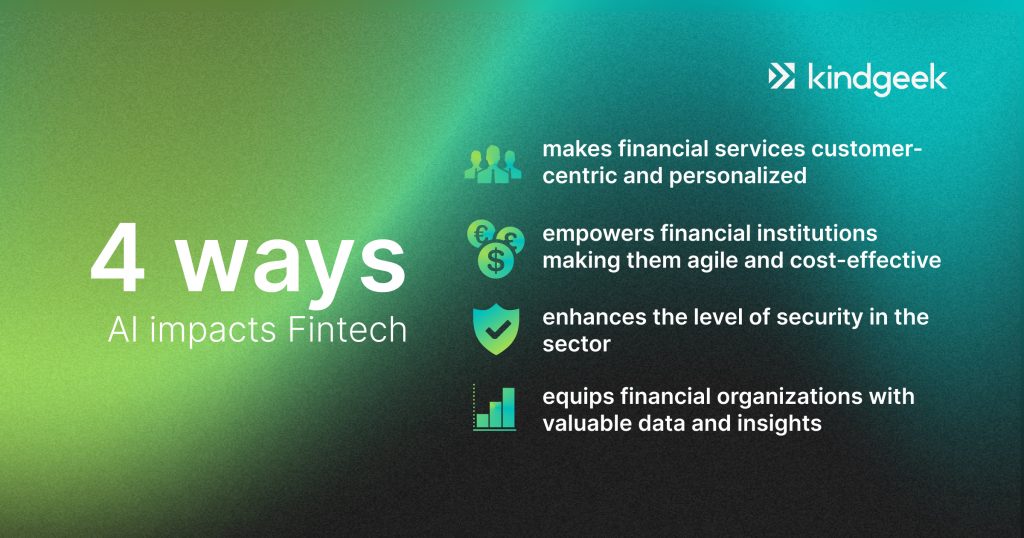 Better customer service
Ensuring customer satisfaction is highly important in the era of rapidly growing customer demands and expectations.
With the financial market being one of the most competitive ones, those leaders who leverage AI can win over new customers and retain existing clients due to better service.
AI opens the door to convenience and better financial management experience, making financial services customer-centric and personalized.
Cost reduction and workload optimization
It's impossible to underestimate the level of contribution AI technology makes to the workflow in finance.
Using AI in fintech, companies can eliminate a vast amount of manual work and streamline many business processes, thus reducing many operational costs, increasing accuracy, and allowing employees to refocus their efforts on strategic business tasks that require human input.
Enhanced security
As the number of frauds grows like a weed and cyber criminals' tactics constantly change, financial institutions seek ways to amplify security and protection.
AI-based fraud detection takes security to a new level and addresses issues effectively, keeping financial data and money under efficient protection.
Data-driven decision making
Who has the data has the power. Though true for all, this is especially relevant in finance, where the amount of information increases every hour.
With AI capabilities to accurately process extensive amounts of data, financial organizations can have a helicopter view of many business aspects, allowing them to build strategies and make data-driven decisions.
With all that in mind, we'll start discussing the impact of AI in fintech through the lens of prominent AI examples.
Top AI use cases in fintech
Chatbots as virtual assistants
Nowadays, chatbots are not just cold response machines. They can be really smart and act as digital assistants. Upon any immediate request, users can quickly get support, guidance in financial operations, advice on financial services, good saving plans, insights on expenditures, and deposit options. And all of this is a matter of just a few clicks or taps –no need to seek and wait for external assistance.
Given the AI capabilities of compiling data on user preferences and activity patterns, all users can receive a truly personalized financial management experience that will allow them to achieve their financial goals, plan expenses carefully and interact with a bank more straightforwardly. Using chatbots is expected to save banks up to $7.3 billion worldwide by 2023, economizing 862 million work hours.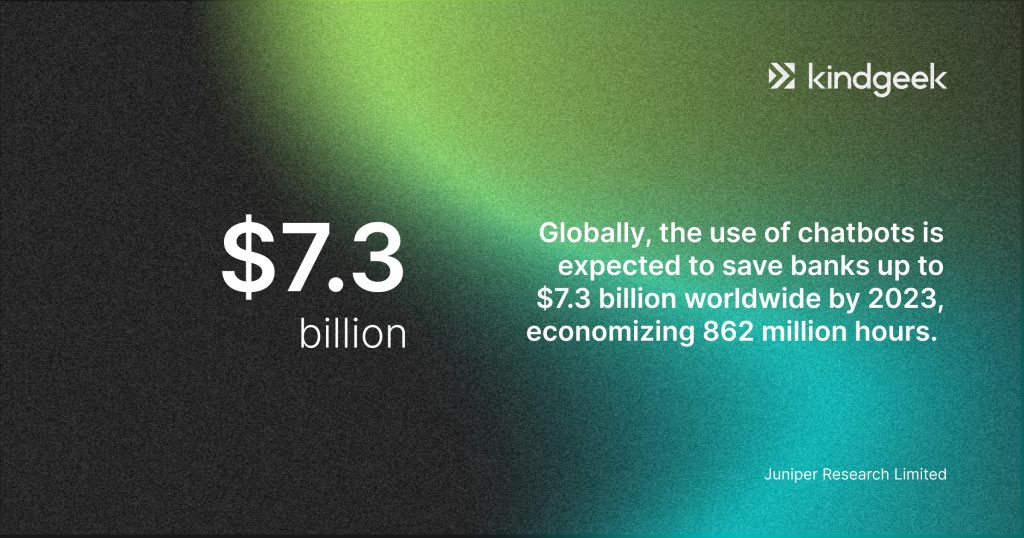 Loan underwriting
AI is also a powerful tool for credit scoring. Earlier, loan application was considered for two or three weeks and took the time and effort of many different specialists.
Now, AI solutions can assess potential borrowers in a timely fashion, at lower costs, and with better precision as it takes into account more data and, thus, more factors. Therefore, companies can now better understand their applicants' creditworthiness and provide personalized loan options.
Risk management
In an industry heavily reliant on gathering and processing large volumes of data, the application of AI is a definite game changer. Machine learning, a subset of AI, meticulously collects every single data set without missing a spot, processes this extensive amount of data, and forms accurate reports and predictions.
They, in turn, help companies see early signs of potential issues and enable them always to be one step ahead and take measures on time to keep safe from threats that might impact their overall functioning or revenue.
Fraud Detection
Service providers have made the security of their clients a number one priority, and AI helps them with that.
Financial institutions are implementing AI-based systems in record numbers, with more than $217 billion spent on AI applications that help prevent fraud and assess risks.
The AI-based system quickly detects suspicious behavior, verifies user identity, and instantly responds to cyber attacks that threaten clients' accounts.
With ML's power to quickly process and analyze vast amounts of data in real-time and its ability to learn from experience security models improve significantly, so less human input is needed. Moreover, ML solutions are smart enough to trace more complex fraudulent patterns and allow for streamlined verification processes.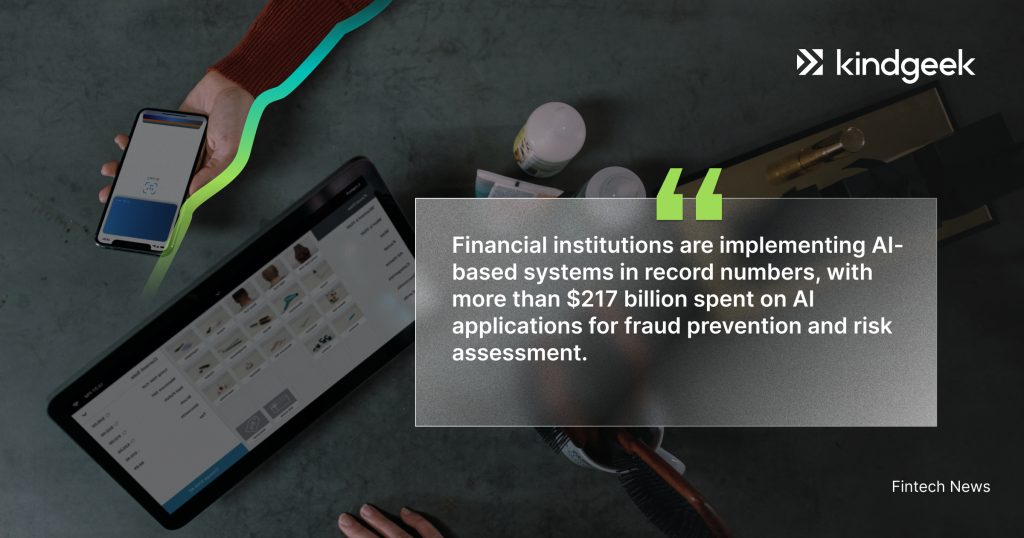 Process Automation
Robotic process automation is a perfect tool to boost productivity, improve accuracy and speed, and cut operational costs. Forward-thinking companies realize the value, and according to the Gartner report, nearly 80% of financial leaders have already implemented or are planning to implement RPA.
Artificial intelligence-enabled software can take over and handle high-volume repetitive tasks that previously required humans to perform. RPA can review and verify data, gather, and retrieve information from documents, perform data entry, generate reports according to parameters, etc. Use cases of RPA include, but are not limited to, purchase orders, invoices, payroll processing, reconciliation of accounts, and financial reporting.
Challenges of AI in fintech
Let's face it – there are no ideal systems, so although AI technology in fintech has many advantages and is considered, by right, a positive game changer for the industry, there are some struggles to face.
Insufficient data quality
As data is the lifeblood of AI, the importance of data sets being quality is immense. If data sets are wrong, then the analysis risks being unreliable.
AI bias
As humans sometimes might be biased, consequently might be AI. The bias might be traced in the algorithms or the training data. That's why external control is needed to detect such cases.
Integration and implementation
Another potential challenge might be the correct implementation of AI within the existing company infrastructure. Experienced AI solution providers' support is crucial to installing proper algorithms, complying with legal requirements, and ensuring a smooth operation within other systems.
Nevertheless, as AI continues to grow and improve, it's important to note that:
1) technological advancements are here to stay
2) the number of powerful, undeniable benefits and opportunities overshadow the challenges
3) forward-thinking businesses realize AI value and take action
4) in the modern market environment, it's challenging to gain a competitive edge without leveraging AI.
Consider KindGeek Your Trusted Fintech Development Partner
If you have been thinking about implementing a fintech solution for your business, feel free to contact KindGeek and have a talk with our experts. With over 80% of projects in the fintech domain, that's our territory, and we'll be glad to get you acquainted with it.
Final thoughts
Artificial intelligence is rightfully considered a game changer for the financial industry – not only does it improve a business from both internal and customer sides but also saves cost, and provides valuable advantages that make you always one step ahead.
With AI driving the future, more and more companies resort to deploying this cutting-edge technology to be competitive in the market and win over customers.
As the financial market is highly competitive, implementing AI is essential, as staying away from technological advancement can cost more in the long run.