Digital transformation isn't just a buzzword anymore. In today's business environment, it's a crucial condition for survival in the market. The sudden outburst of the global pandemic has even accelerated digital transformation across various industries.
In this article, we'll look at what trends are now at the forefront of driving digital transformation in the financial services, healthcare, and education industry and overview the hot topic of digital transformation.
Content
1. Digital transformation trends
2. Why digital transformation is worth going through
3. Outsourcing digital transformation: key benefits and challenges
4. Consider Kindgeek Your Trusted Software Development Partner
Digital transformation trends
Before we dive into trends, here are some stats to consider:
The global digital transformation market is forecasted to grow from $594.5 billion in 2022 to $1,548.9 Billion by 2027.
Global spending on digital transformation technologies and services is predicted to reach $1.8 Trillion in 2022 and amount to $2.8 trillion by 2025.
The value of digital transformation to society and business is projected to reach $100 trillion by 2025.
Mind-blowing figures, aren't they? Now, let's get started.
Financial services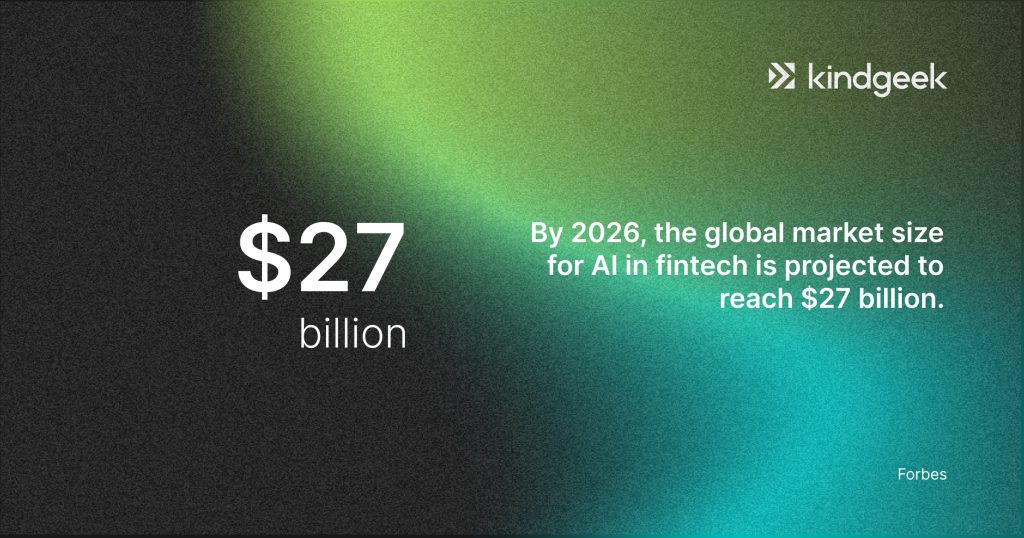 Due to the keen early adoption of cutting-edge technologies, the financial services industry is now among the most digitally mature ones, setting an example for other industries to follow. Innovations drive significant improvements, making the financial sector genuinely customer-centered, data-driven, agile, and more convenient.
These trends disrupt the industry:
1. Artificial intelligence
This robust technology drives speed, efficiency, and precision by helping financial organizations streamline internal processes, improve security, enhance customer experience, and be data-driven in delivering services. By 2026, the global market size for AI in fintech is projected to reach $27 billion.
2. Big Data and Cloud computing
Big Data enters the vast realm of heterogeneous data, validates and organizes it into sets, giving the opportunity to make value out of data to make reasonable decisions and build actionable strategies.
Migrating large volumes of data to a powerful cloud environment gives a positive boost, allowing for improved productivity and a decrease in costs.
3. Mobile apps
As 6 in 10 smartphone users prefer an app for managing their finances, mobile solutions rank high in trends and provide better customer service, improve operational efficiency and help attain a competitive edge.
4. Blockchain
Due to its decentralized nature, blockchain allows for better transparency and security. In the meantime, it helps to decrease costs and make more agile transactions.
Healthcare
Innovations disrupt traditional healthcare and shape it into being more accessible, patient-centered, and efficient. Moreover, the Covid-19 pandemic has undoubtedly contributed to the general picture and unlocked new ways of delivering care.
Let's take a look at some noteworthy:
1. Artificial intelligence
AI helps to streamline time-consuming tasks, process and analyze medical data more efficiently, improves diagnostics and treatment processes minimizing human error, enables self-service patient check-ins, reduces costs, and provides more personalized care, eventually improving customer experience.
2. Telehealth
Through telehealth platforms, patients can take care of their health remotely. The convenience here is evident: using a platform, patients can make appointments online, check in with doctors via video calls and ask for advice through a messaging feature.
3. Internet of Things
Medical IoT technology allows for monitoring one's health through collecting real-time data. These insights on health conditions enable patients to address problems, prevent diseases and share this data with a doctor for further consultation and personal treatment plans. Also, these intelligent devices can upload collected data to the cloud and form electronic health records.
Education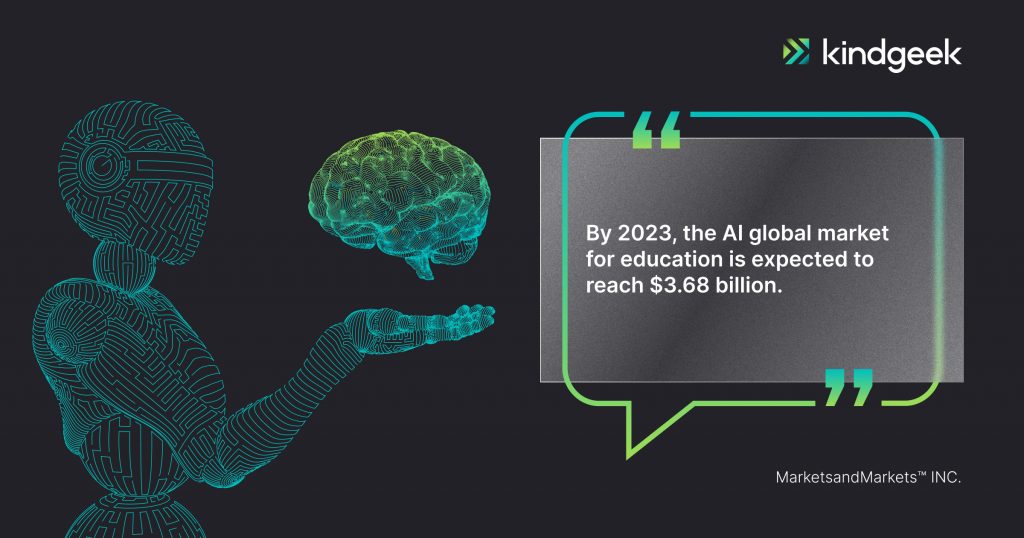 With modern technologies being gradually adopted to meet the needs and wants of 21st-century students, the global pandemic has accelerated the digital transformation of the education sector, enhancing many aspects of the educational process and delivering new opportunities.
Here are the current trends:
1. Artificial intelligence
AI-powered solutions streamline many mundane tasks, enhance the educational process, and personalize learning, eventually increasing students' motivation and staff effectiveness. By 2023, the AI global market for education is expected to reach $3.68 billion.
2. AR/VR
These applications help students grasp complex things, allow for better engagement with the subject and provide a better learning experience with no additional tools needed.
3. Cloud-based learning opportunities
E-learning platforms help to make learning accessible regardless of location. Functionality is diverse: virtual classrooms, assignments submission, round-the-clock access to educational materials, and that's not even the full list.
Why digital transformation is worth going through
Let's face it – the business world will not be the same as before – innovative technologies are here to stay, which means sooner or later, a pressing need to incorporate them into your business will arise, if it hasn't already, which is highly doubtful, by the way.
Keeping up with digital transformation is crucial, as neglecting the progress can severely impact your market position or even knock you out of the market. Be aware – if disruption runs in your industry, those who implement it today might get you out of the game tomorrow.
The covid-19 pandemic has even boosted the adoption of innovation. According to an IBM survey, 59% of businesses have accelerated digital transformation, while 66% have been able to complete initiatives that previously encountered resistance.
Moreover, digital transformation is a sheer value driver, and you shouldn't miss out on the value it provides.
With innovative tech on board, your business can achieve the following:
more productivity through automation and lower operational costs
improvement in agility and innovation
data-driven decision-making
improved service and unlocking a better customer experience
more substantial competitiveness in the market
increase in profit records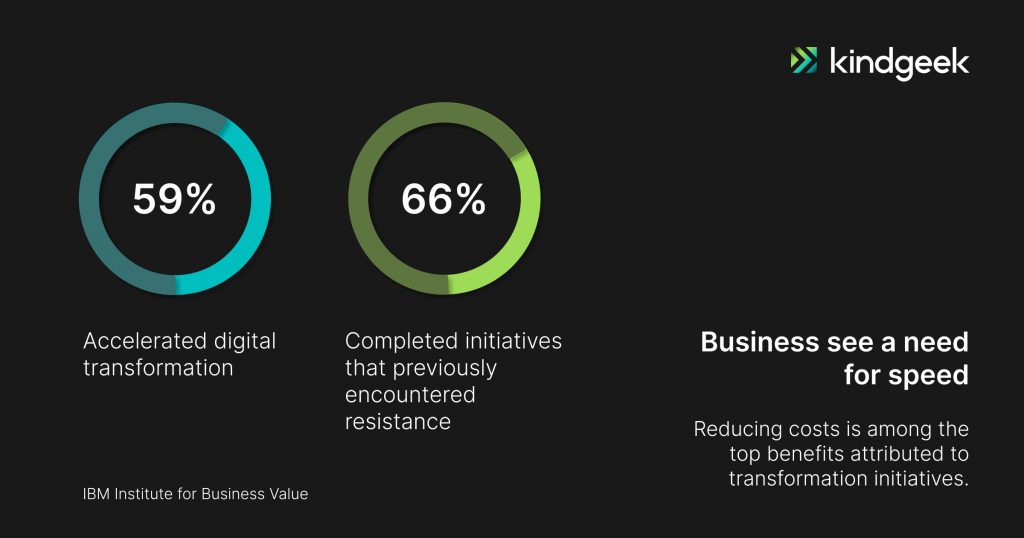 Outsourcing digital transformation: key benefits and challenges
However, even with the best plan, digital transformation projects can result in disaster if they are not correctly implemented.
Nowadays, nearly 90% of businesses choose a third-party solution provider to help with at least one element of their digital transformation. Outsourcing is preferred for its unquestionable benefits. Let's take a look at the main ones:
Key reasons to outsource digital transformation
Access to quality resources
With outsourcing, you can hire world-class developers as an additional pair of hands to reduce the burden on your IT department, which is overloaded with other critical tasks.
The finest talents possess expertise in various domains and technologies critical to digital transformation compared to the often low availability of in-house specialists familiar with rolling out these solutions.
It's better not to put time and money at stake and pick an experienced IT provider who knows what steps need to be taken to achieve. Challenges and industry-specific issues are not something new for them. They're well-versed in dealing with them.
Flexibility and scalability
Outsourcing allows you to control costs and scale the size of the team up and down depending on your current business needs.
With outsourcing being a highly beneficial option, some challenges still exist, including choosing a reliable IT provider with business expertise and highly skilled talents. If you miss this step, many problems might occur, such as loss of control, lack of consistency, flexibility, security, and financial risks.
Consider Kindgeek Your Trusted Software Development Partner
KindGeek is a full-cycle software outsourcing company that builds innovative and secure technological solutions, disrupting traditional approaches and processes to drive positive changes to businesses. With projects focused on fintech, healthcare, education, media, and retail, we believe that our client's success is also our success. That's why when developing a solution, we bring in our business expertise to ensure that it will complement the company's business and strengthen its position in the modern market.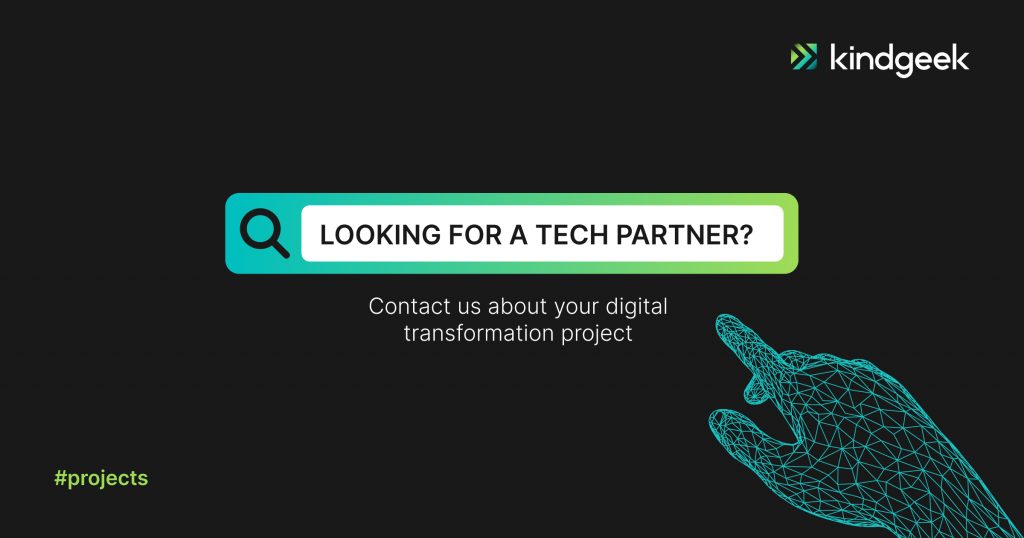 Final Thoughts
Digital transformation isn't something ground-breaking anymore – it's the reality you need to face in today's business environment. Without leveraging innovative technologies today, it's challenging to remain competitive tomorrow. Business transformation outsourcing is a highly attractive option for embarking on this journey. A highly skilled, reliable IT provider with experience in your industry can guide you through the process and help you achieve your business goals.
How to ensure the success of digital transformation?
1. Begin with a strategy: define your business needs, set transformational goals, and link that to the specific business outcomes.
2. Prioritize investments: 20% – projects that are quick to implement and show instant results; 80% – projects that solve considerable business challenges and thus need more time to implement.
3. Effective monitoring of progress: identify metrics to gauge how you advance and move towards your business outcomes.
What are the 3 key benefits of digital transformation?
Greater employee efficiency
Better customer service
Increased profit
Why is it better to go through a digital transformation?
The price of ignoring it might be too high – the business can lose its market position and get outmoded. Yes, it won't happen overnight, but innovative technologies are here to stay, and forward-thinking enterprises realize and take action, and so should you.