The healthcare domain operates in a dynamic environment with requirements and needs increasing on the fly from both patients and medical staff. With technological advancements at every corner, healthcare providers have no choice but to innovate to stay competitive in the market.
Thus, healthcare officials look for a solution that can drive real benefits for them yet be cost-efficient. As you might have guessed, cloud computing is a technology that perfectly meets those criteria, and that's why it has become a must-have for any healthcare organization in the market.
In this article, we'll overview cloud computing in the healthcare industry, covering all essential points listed below, so stay tuned.
Content
1.Importance of Cloud Computing in Healthcare
2.How Cloud Computing is Used in the Medical Industry
3.Benefits of Cloud Computing in Healthcare
4.Risks of Cloud Computing in Medicine
Importance of Cloud Computing in Healthcare
Cloud computing is a heated topic these days in the world of healthcare tech, and for a reason. Cloud computing offers an array of benefits for healthcare companies like patient-centered care, lower operational expenses, enhanced accessibility, and interoperability, just to name a few.
Healthcare officials recognize its value and strive to harness the tech to gain a competitive advantage. Thus, the market of cloud computing in the healthcare industry is expected to reach $89.4 billion by 2027, up from 39.4 billion in 2022. According to McKinsey, the cloud has the strength to generate a whooping value of $100 -170 billion for healthcare organizations by 2030.
Cloud computing disrupts traditional data handling methods and digitalizes the healthcare organization from in and out, improving collaboration between medical staff and driving efficiency, convenience, and satisfaction for both parties.
As the cloud is a backbone for many technologies such as AI, ML, Big Data analytics, and IoT, its adoption fuels innovation in healthcare companies and allows for enhanced service, better healthcare outcomes, and data-driven decision-making.
The application of cloud computing helps to battle the problem of administrative inefficiency and unnecessary treatments and thus saves costs significantly. For example, in the USA, the health system wastes almost $500 billion annually on such issues.
The value of cloud computing for the healthcare domain is impossible to deny. And as we move on, let's discover the cloud computing applications in this sector.
How Cloud Computing is Used in the Medical Industry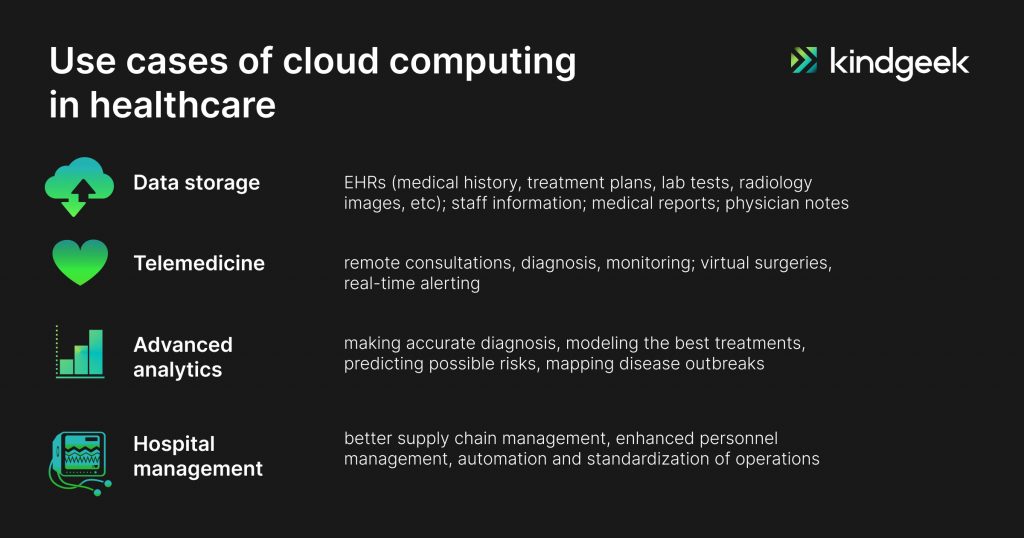 Data storage
As the healthcare domain deals with a vast amount of healthcare data – making up 30% of the world's stored data – the need to store and handle it effectively is paramount. Thus, more and more healthcare organizations resort to applications of cloud computing to leverage its huge storage capacities.
Unlike on-premise hardware, the cloud can easily store and process terabytes of healthcare data more quickly and efficiently.
Cloud environment connects and processes data collected from various resources, makes the information easily accessible, allows real-time sharing, and with all of that, it can be easily backed up with every bit of data in place.
Telemedicine
The application of cloud computing has empowered the growth of such a trend as telemedicine which allows access to medical services remotely.
Cloud-based solutions make it possible to handle communication with healthcare care professionals no matter the distance, which is invaluable for patients with mild or medium symptoms, people with disabilities, and those living in remote areas with no opportunity to visit a physical hospital.
Cloud facilitates remote medical consultations, diagnosis, and even virtual surgeries. What's more, cloud-based telemedicine platforms and apps also allow for tracking medication intake and remote health monitoring at all wellness stages, which is especially useful for patients after surgery or operation. With telemedicine, doctors can also check patients' vitals through IoT wearables and respond to alerts saving people's lives this way.
Advanced analytics
Medical data is an essential resource for gathering insights, and cloud computing enables healthcare professionals to leverage advanced analytics and make use of massive datasets to provide better care.
Now with technologies, tons of raw data can be processed in minutes. Application of artificial intelligence and machine learning is on the rise and can help predict seasonal disease outbreaks, support medical research, help identify risks before they grow into serious issues, find the causes of diseases and discover the best treatment.
With misdiagnosis being among the major problems in healthcare, deploying smart algorithms to analyze patients' multicomponent medical data can be a game-changer. Healthcare givers can eliminate diagnostics errors and better detect diseases at early stages to provide more personalized care plans and efficient treatment per each unique case.
Hospital management
With cloud computing, healthcare leaders can enhance hospital management in many respects. Due to easily accessible, centralized data storage, a network of connected devices, and helpful tech tools, healthcare institutions can track their patients in real-time and streamline personnel and supply chain management.
Cloud computing gives healthcare providers a helicopter view of everything within the hospital in real-time over the internet. Doctors can easily check real-time data, track hospital inventory and equipment, manage workflows, and plan their schedules more efficiently.
Due to tech, many time-consuming routine tasks like filling in documents, reporting, etc., can be automated which will mitigate the problem of health worker burnout.
As we've already figured out the main use cases of cloud technology, let's look at the advantages.
Benefits of Cloud Computing in Healthcare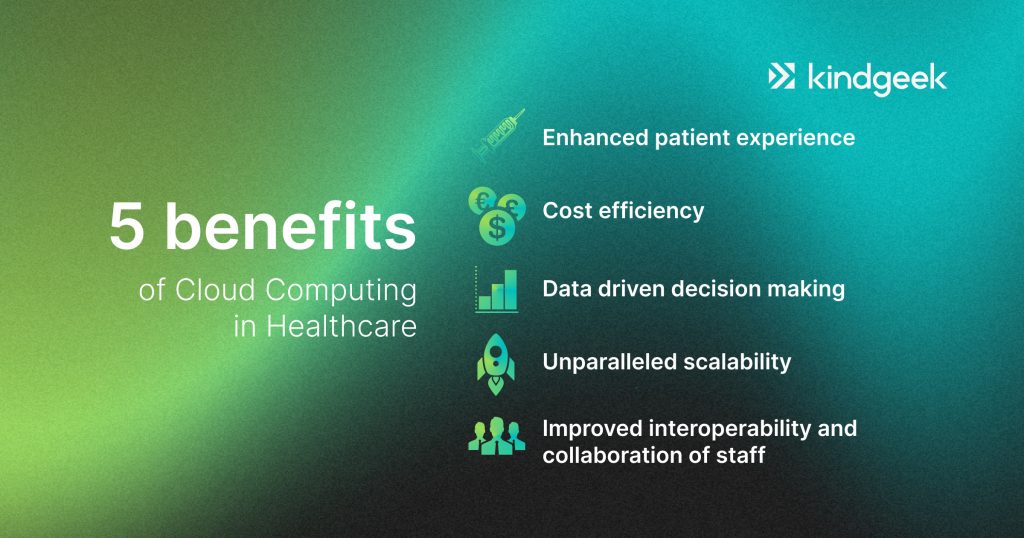 Cost efficiency
As cloud computing provides on-demand infrastructure and resources, healthcare organizations can forget about the need to pour money into expensive in-house hardware as cloud providers offer more agility and enormous storage capacities at a very modest cost.
Besides, healthcare organizations can leverage powerful computing capabilities as cloud providers always go for innovations and enhance the services they provide.
Moreover, technical upgrades, maintenance, and other chores of that kind are taken over by cloud providers, so healthcare organizations not only get rid of such a burden but can decently save on operational costs as well.
Unparalleled scalability
As healthcare institutions operate in a dynamic environment, the ability to be flexible and quickly respond to industry needs is of utmost importance.
Cloud computing systems can offer unmatched, hassle-free scalability to increase or decrease data storage and network requirements per an organization's specific needs. For example, healthcare organizations can easily scale up during peak seasons when the number of patients increases and scale down when the workload is calmer, thus optimizing their expenses.
Such a luxury isn't possible with on-premise systems, as buying new equipment is expensive and requires a significant investment. At the same time, cloud healthcare organizations can simply choose a slightly more expensive plan and stick to it as long as they need those resources.
Enhanced patient experience
The application of cloud computing in healthcare opens the door to a new level of medical services, boosting patient satisfaction. Those healthcare organizations that adopt the cloud can gain a competitive advantage and win over patients by offering personalization, better transparency, and convenience, which they all enjoy having.
With cloud computing fueling telemedicine, patients can consult with a healthcare specialist remotely and receive medical services at home, avoiding the need to visit a physical hospital and stand in long queues to see a doctor.
As cloud computing fuels healthcare apps, patient portals, and wearables, medical care becomes even more enhanced and personalized. Cloud also democratizes data, so patients become more involved and hence better educated about their own health.
Data-driven decision making
Big data analytics, AI, and ML are all valuable perks that healthcare can make use of due to cloud computing. Now with technologies, tons of raw data can be processed in minutes and reveal useful insights. That means healthcare companies can be data-driven in their decisions, enhance the quality of medical services and meet business objectives, respectively.
Tech also helps to streamline mundane processes, while analytics allows medical staff to plan more carefully, allocate resources wisely and manage facilities more efficiently.
Improved interoperability and collaboration of staff
Cloud computing provides healthcare organizations with a connected environment where all the data, irrespective of its multifaceted type and source of origin, is collected, organized, and stored. Thus, doctors, nurses, and other medical staff can easily access and review necessary data to give out timely prescriptions, assign treatment plans, and speed up many data-related tasks.
As technology allows updates in real-time, doctors can seamlessly track and see updates in medical records from other specialists. It diminishes excessive cross-department communication and enables healthcare professionals to focus on providing efficient care.
Besides, the cloud minimizes the distance between healthcare professionals allowing them to collaborate and give expert opinions on complex medical cases despite geographical boundaries.
Risks of Cloud Computing in Medicine
On the flip side, cloud computing is sometimes associated with risks such as security, the need for regulatory compliance, and systems downtime. Yet, these challenges can be handled, so let's have a further look.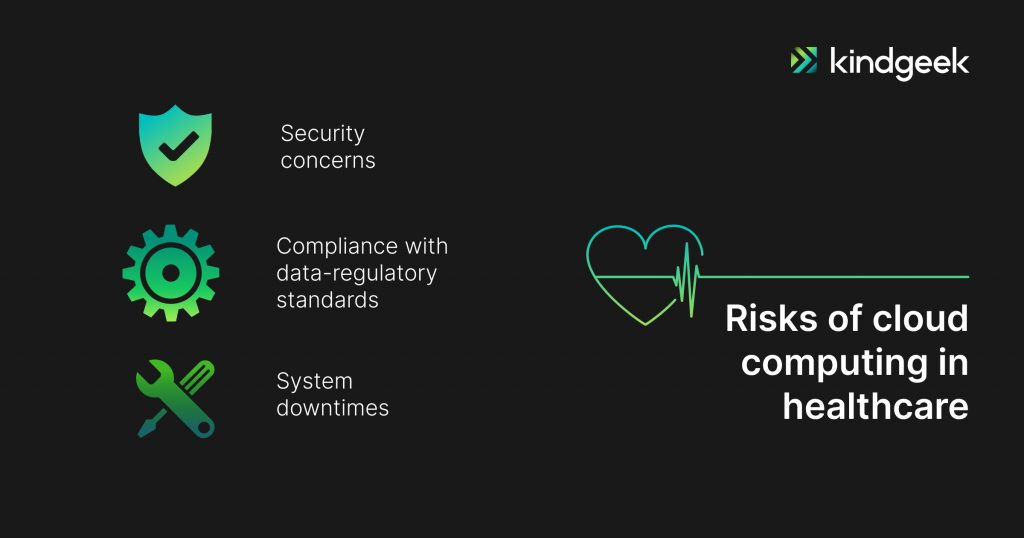 Security concerns
The most significant limitations in the adoption of cloud computing are security issues. As healthcare data is extremely sensitive, the data breach might cost a fortune and considerably damage the reputation.
That's why such concern is reasonable, yet the overall picture doesn't look so gloomy. In fact, reliable cloud providers pay meticulous attention to the security of their platform and offer multi-level privacy and meticulous monitoring of user access. Data encryption, two-step verification, and blockchain are the ways to safeguard data from external threats.
Compliance with data-regulatory standards
As the healthcare domain must comply with security and privacy norms like HIPAA, HITECH, and GDPR, medical organizations must ensure that cloud-hosted data meets all data-regulation laws.
By choosing a reliable provider with all protective mechanisms in place, it becomes easier to ensure compliance with critical security standards and respond to changes in regulations.
System downtimes
Even though the cloud offers more reliability, healthcare organizations are afraid of losing control over the data and system if cloud providers' services face downtime.
Having contingency plans in place is the best option during such issues. Eliminating dependence on one single cloud provider or choosing a hybrid cloud solution can help in case of unforeseen events and is indeed a popular strategy in medical cloud computing.
Consider Kindgeek Your Trusted Healthcare Software Development Partner
At KindGeek, we know that healthcare software solutions demand not only technical expertise but also sufficient knowledge of the industry's regulatory peculiarities and ethics.
Having worked with healthcare solutions for years, our team of geeks feels confident in both. We are well-versed in modern technologies and industry-specific requirements and will be glad to help you with our expertise gained over the years. If you're seeking to build a healthcare solution for your company, feel free to book a consultation with our experts.
Final thoughts
Without a doubt, cloud computing is an excellent, cost-efficient solution that enhances healthcare on many levels and benefits all stakeholders. While it has risks, preventative steps can be taken to deal with them. The growth of cloud computing in healthcare is unprecedented. According to a recent survey, 78% of healthcare organizations are now deploying this technology, while 20% are already planning to follow suit. Thus, it's more than high time to embrace cloud computing and harness the benefits it provides.
What is the essence of cloud computing in healthcare?
Cloud computing provides healthcare organizations with on-demand availability of resources such as data storage and powerful computing capabilities via the internet, thus allowing pay-per-usage and eliminating the need to own expensive equipment in-house.
What are the main cloud computing trends in healthcare domain?
– increased investment into security
– hybrid and multi-cloud strategies
– even greater usage of AI and ML
What pain points can cloud computing solve in healthcare?
Cloud computing can help healthcare companies lower high operational and infrastructural expenses, battle data silos, enhance staff collaboration, level up patient experience, and increase the quality of medical services.
Why is cloud computing popular for data storage?
It is estimated that a single patient accumulates up to 80 megabytes yearly in imaging and EMR data. Thus, running a hospital can result in a resource-intensive amount of healthcare data.
With cloud capabilities to store petabytes of data, lots of companies migrate to the cloud. Benefits include bandwidth, enhanced accessibility from any device, backup possibilities, and modest pricing.