Introduction
While lots of technologies have positively impacted the financial services industry, it is clearly AI that has truly revolutionized financial services.
And with a recent AI breakthrough taking the world by storm, the AI revolution is definitely far from slowing down. Being a priority tech for investment, the global market for AI is projected to surpass $ 521.3 billion by 2028, with a CAGR of 35% from 2023 to 2028.
Yes, given the tough global market conditions, 2023 will possibly be a more sober year in tech. But still, this year's worldwide IT spending is projected to increase by 5.5%, according to Gartner. And despite economic uncertainty, the experts predict that AI will not only remain resilient but recession-proof, helping businesses do more with less.
Chatbots as the most evident area of AI impact
As banks are in the process of exploring how they can leverage AI to the greatest advantage given their specific use cases and needs, the most obvious area to be impacted by the new AI wave is – chatbots.
Indeed, according to the article in Forbes, 2023 is likely to be the year of a chatbot in banking. However, not all chatbots work the same way. Executives need to look for more "evolved" chatbots.
Deploying modern AI chatbots in today's rapidly changing landscape will help banks cut costs in a smart way, increase revenue and, of course, get great ROI in between.
Often referred to as virtual agents or intelligent virtual assistants, these AI-powered chatbots use ML and a branch of AI called natural language processing (NLP) along with its subsets NLU and NLG which make such a chatbot a valuable tool for banks and financial organizations.
Here, let's see how.
Note #1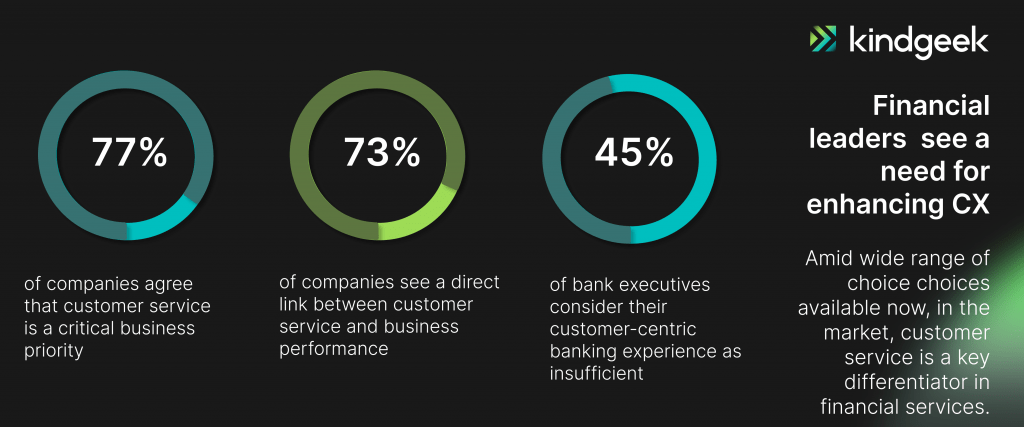 As for 78% of banking customers, the first touchpoint is digital and the number of fintech apps only continues to grow, financial organizations will seek to level up their digital service.
Indeed, amid a wide range of options available to consumers now, customer service is a key differentiator in financial services. Data from the Zendesk 2022 report shows that 77% of companies agree that customer service is a critical business priority, while 73% see a direct link between customer service and business performance.
And when it comes to this, intelligent chatbots can greatly contribute.
Enhanced customer-facing interactions for better satisfaction
In fact, after almost everyone tried their hand at Chat-GPT and a range of other similar AI tools, users would expect to receive the same convenience when dealing with a chatbot in the app. With 64% of customers expecting chatbots to provide the same level of service as humans, the figure is clearly set to increase due to the current AI boom. However, 45% of bank executives consider their customer-centric banking experience as insufficient, according to KPMG.
Traditional rule-based chatbots lack conversational skills and often fail to provide helpful responses to the users, as they typically deal with basic information. Banks need to be alert and take action to improve their customer-facing touchpoints. According to a recent survey, one poor chatbot experience drives away 30% of customers, while 61% are more likely to build loyalty after a positive experience and far more likely to recommend the services to others.
In contrast, modern AI chatbots – the ones equipped with ML, NLP, NLU, and NLG – can recognize human intent, comprehend emotions behind the query and provide an informative response with relevant comments and insights; they focus not only on resolving issues in real-time but also smart enough to analyze and offer personalized suggestions and guide the user towards best possible option since they are pre-trained with information on customers' financial history and behavior patterns.
And according to a study by Salesforce, about 73% of customers expect a personalized journey, while figures from McKinsey indicate that around 76% of clients get frustrated when their unique needs are not understood, while 70% indeed spend more when offered a tailored customer service. 
Not to mention these AI chatbots' capability to retain context and build seamless, empathetic, and human-like conversations – in a cost-effective way for a business and with round-the-clock availability for customers.
Thus, by leveraging advanced chatbots, banks can boost customer satisfaction, lower churn rates, and foster greater loyalty. And, of course, drive more revenue, as McKinsey research reveals that banks with higher customer satisfaction grow deposits 84% more quickly than their competitors.
So, with all of the above being said, it's clear that good customer service explicitly turbocharges business performance.
Note #2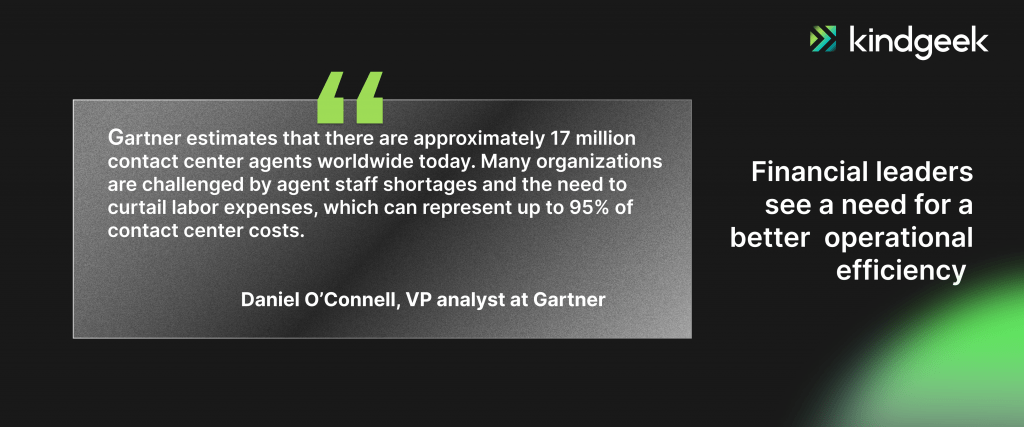 Due to the prevailing labor shortages and tight labor market, financial organizations are challenged by agent staff shortages – eight in ten banks are struggling to recruit new staff members – and face the need to reduce costs, they will increasingly seek ways to sustain operational efficiency. Besides, executives need to elevate employee experience to increase talent retention, and improve their productivity and overall business performance.
And when it comes to this, modern AI chatbots can be of help as well.
Supercharged operational efficiency and cost savings
On the one hand, it is common knowledge that chatbots can significantly reduce the pressure put on customer support teams, allowing them to focus on more value-added tasks that require a human touch.
While this greatly boosts employee efficiency, such a move ultimately leads to better business outcomes and cost-savings that in total are projected to amount to $80 billion by 2026, with one in 10 agent interactions being automated by that time. Isn't that mind-blowing how much money can be saved, hence redirected to turbocharge other organizational areas? Indeed it is.
On the other hand, AI chatbots can also act as a member of the team, supporting employees directly by providing real-time assistance.
Employees can consult a chatbot just like their human teammates and instantly access relevant information to make faster, more informed decisions. In turn, a positive employee experience will lead to better well-being, increased engagement, and better business results – up to a 50% increase in revenue, according to the research.
The future
With everything moving towards automation, chatbots will be an indispensable element of digital transformation across the financial services industry.
Chatbots have come a long way, they already have a vast span of capabilities, and now, due to the rapid advances in AI, they will only get better with time.
And mainstream, given the rapid developments in AI and raising bar in customer expectations.
As more and more customers prefer digital banking, it is evident that the use of intelligent and conversational chatbots will only continue to grow.
Indeed, Gartner predicts that chatbots will become a chief customer service channel for a quarter of organizations by 2027.
Thus, in the future, we might expect to see a decrease in the number of physical branches as digital banking improves and advanced chatbots become the primary way customers interact with their banks.
Well, such a scenario is not too far-fetched, considering the advancements in AI that have already been made.