"2020 may be a year of Fintech" – wrote Forbes at the beginning of 2020, before the pandemic broke out. Since then, the Fintech industry has gone through many challenges.
A break, not a breakup. This is how RiaIntel described the situation with the Venture Capital investments in Fintech in 2020. Even though the Finеech market is still filling up with new financial services providers and early-stage fintech startups, 2020 has been a roller-coaster.
However, as more and more investment management startups pour into the financial technology space, more businesses are beginning to offer new competitive financial products and services. There has been a significant spark of fintech startups in several areas, including wealth management. In this article, we will cover 5 asset management startups that are shaping the industry and bringing innovative solutions to the Fintech world.
Get a cup of something tasty – we are diving into the asset management startup world.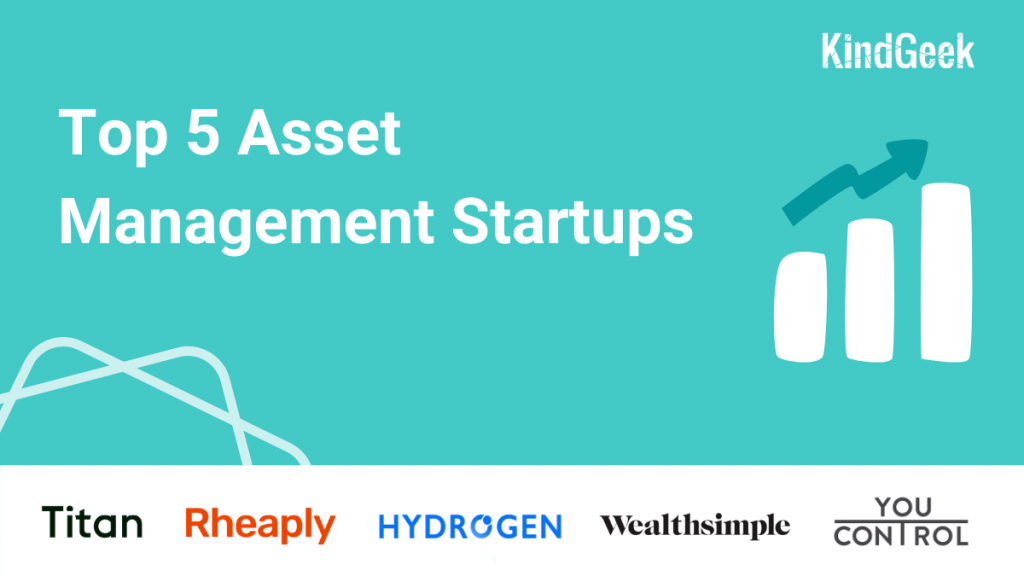 In this article:
---
Why take a look at the asset management startup world
Every business is unique, and so is its stuff. Better asset tracking leads to better business performance – you keep your stuff nice, you know where it should be, and you prevent losses and damage.
Asset management startups focus on building innovative solutions that help companies grow, save and have full visibility on their assets. We've found 5 wealth management startups that shape the industry and say "goodbye" to digging through dozens of files to find asset information.
---
Top 5 rocking asset management startups to keep an eye on
1. Titan – a next-generation investment management startup
"Titan, an asset management technology startup that is building a retail investment management platform aimed at millennials, has closed on $12.5 million in a Series A round led by Venture Capital heavyweight General Catalyst" – TechCrunch writes.
Titan was founded in 2018 by two Wharton alumni, passionate about investment management. Since then, the company has managed $500M for 25,000 clients.
Founded in: 2018
Based in: New York, the USA
Superpower: is suitable for both experienced investors and those who are just begging their investing journey. Even students – the minimum amount of investment starts at $100.
Read Titan's success story here.
---
2. Rheaply, Inc. – sustainable asset management startup
Rheady is a climate asset management software startup that combines a resource-sharing network with a user-friendly asset management platform. It has recently raised $8M in a Series A round led by High Alpha in 2021, according to BusinessWire.
Rheady allows its customers to better manage, use, and share their valuable resources. All that to promote circular economy and sustainability values in asset management.
Founded in: 2016
Based in: Chicago, the USA
Superpower: Rheaply is the technology for connecting organizations with resources and catalyzing the circular economy. It is the only market solution that combines an asset management system with an online marketplace.
Get inspired by Rheady's story.
---
3. Hydrogen – embedded finance made simple
Hydrogen has been listed as a Transformer in aperture's Digital Age Wealth Management report.
"We were very impressed with the Hydrogen platform. We see Hydrogen as a particularly good choice for new entrants into wealth management as well as brands looking to embed wealth management into their existing proposition" – says Ben Robinson, co-founder of aperture and co-author of the report.
Here's what Hydrogen founder says about the platform:
"Our company mission is simple: Allow any company to easily embed financial services, which will create an ecosystem for better, simpler, fairer, more transparent, and more affordable financial products" – Mike Kane, Co-Founder & CEO.
Founded in: 2017
Based in: New York, the USA
Superpower: embeds financial services in your business using one connected no-code platform.
Find Hydrogen on Crunchbase.
---
4. Wealthsimple – most human finance company
Wealthsimple is a fast-growing investment management startup, offering financial tools to help investors grow and manage their money.
Wealthsimple has £6.4 billion assets under management and serves more than 1.5 million customers worldwide.
"Wealthsimple is going beyond providing a tech platform…it also gives users access to its stable of financial advisors" – TechCrunch.
Founded in: 2014
Based in: Toronto, Ontario, Canada
Superpower: Wealthsimple is a financial advisor startup, so its advisors are always available when you need them.
---
5. YouCapital – innovative mobile platform to match idea people and investors
YouCapital is a mobile investment management app that connects startups to mid-market businesses with investors in just a few minutes. Create a funding project for free, enter some data – that's all it takes to raise funds for the business idea.
"YouCapital is like a dating app for investment. But, we would hope, with a higher success rate and longer relationships!" – Tom Gaughan, CEO.
We've worked with the YouCapital team for 8 months in 2017. Since then, it has become an industry-shaping asset management platform.
Founded in: 2016
Based in: the UK
Take a look at this video to find out more about YouCapital's superpowers:
---
Final thoughts
Even though Fintech has gone through many challenges in 2020, industry-shaping asset management startups continue to get investments at Y Incubator, VC, and successfully grow their businesses. We've highlighted only 5 ones that give an insight into the wealth management startup world.